Apple Sued for Choosing Not to 'Lock-Out' iPhones Behind the Wheel to Prevent Texting and Driving
California resident Julio Ceja is seeking a class action lawsuit against Apple, accusing the company of placing profit before consumer safety by choosing not to implement a lock-out mechanism that would disable an iPhone's functionality when being used behind the wheel by an engaged driver.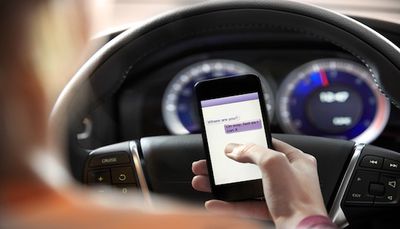 Ceja demands that Apple halt the sale of all iPhones in California until a lock-out mechanism is implemented. He also demands that Apple release a software update that adds a lock-out mechanism to all iPhones already in the hands of consumers. He is not seeking further damages beyond legal fees and costs.
The complaint, filed with the Los Angeles Superior Court on Tuesday, asserts that Apple's willful decision not to implement a lock-out mechanism on iPhones, chiefly to prevent texting and driving, constitutes "unfair business acts and practices" under California's Unfair Competition Law. A jury trial has been demanded.
Ceja asserts that Apple's "enormous market share" means that it is the "largest contributor" to texting and driving, while noting it is "downright shocking" that smartphone companies like Apple "do nothing to help shield the public at large from the dangers associated with the use of their phones."
"If texting and driving is a vessel of trouble, Apple is the captain of the ship," the complaint alleges.
The complaint claims that Apple recognized the dangers of texting and driving, and the important role it should play in stopping it, in its lock-out mechanism patent filed in 2008 and published in 2014.
The patent notes that "texting while driving has become a major concern of parents, law enforcement, and the general public," and further claims that "texting while driving has become so widespread it is doubtful that law enforcement will have any significant effect on stopping the practice."
The patent describes one method where a motion analyzer would detect whether a handheld device is in motion beyond a certain speed. A scenery analyzer would be able to determine whether the holder of the handheld device is located within a safe operating area of a vehicle. Otherwise, the device could be disabled.
In other embodiments, a vehicle or car key could transmit a signal that disables functionality of the handheld device while it is being operated. To a lesser degree, a vehicle could also transmit a signal that merely sends the device a notification stating that functionality should be disabled.
In November, the U.S. National Highway Traffic Safety Administration recommended smartphone makers develop a "Driver Mode", a simplified interface that would prevent access to non-driving-related tasks such as text messaging, social media, and viewing images and video unrelated to driving.
The complaint comes less than one month after a Texas family sued Apple for failing to enable said lock-out mechanisms to prevent distracted driving. On Christmas Eve in 2014, the family's vehicle was struck by a distracted driver who admitted to using FaceTime while driving. The accident caused one fatality.
Apple has faced other similar lawsuits in the past. In response to a Texas lawsuit filed in 2015, Apple indicated the responsibility is on the driver to avoid distractions in a statement provided to The New York Times:
"We discourage anyone from allowing their iPhone to distract them by typing, reading or interacting with the display while driving," Apple said. "For those customers who do not wish to turn off their iPhones or switch into Airplane Mode while driving to avoid distractions, we recommend the easy-to-use Do Not Disturb and Silent Mode features."
Ceja himself was rear ended by a driver who was texting behind the wheel. Whether this latest complaint has merit will be up to the court to decide. Apple has yet to publicly comment on the matter.