AirPods Have Captured One Quarter of Wireless Headphone Spending Since Launching
The wireless headphone market has steadily grown over the past year, new data from research firm Slice Intelligence suggests.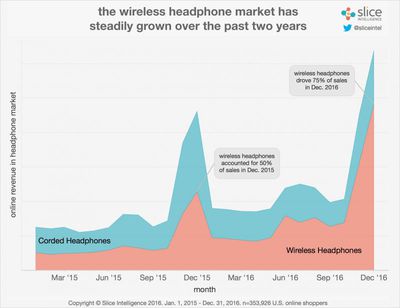 In the U.S. last month, an estimated 75% of revenue from headphones sold online came from wireless models, up from 50% in December 2015, according to Slice Intelligence. Apple's new AirPods led the way, capturing an estimated 26% share of online revenue in the wireless headphone market since launching on December 13.
AirPods stole the top spot from Beats, which took an estimated 15.4% of online revenue in the wireless headphone market, down from 24.1% between the start of 2015 and December 13. Given it owns Beats, Apple appears to have actually taken nearly 40% of online revenue in the market since launching AirPods.


Slice Intelligence said wireless headphone spending on AirPods launch day was ten times greater than the pre-holiday average for 2016. December 13 was also the largest single day of online headphone spending last year, according to the research firm, topping Amazon Prime Day, Black Friday, and Cyber Monday.
The research suggests 85% of shoppers who purchased AirPods are male, of which 35% are young millennials. Female buyers tended to skew older, with 38% falling in the baby boomer generation. The gender data is based on 2,871 U.S. online shoppers who purchased AirPods between December 13 and December 31.


Apple has not disclosed AirPods sales, with CEO Tim Cook only vaguely claiming the wireless headphones have been a "runaway success" amid "a great holiday" period. AirPods remain estimated to ship in 6 weeks in the U.S. as Apple said it is working to fulfill orders as fast as possible.
Slice Intelligence aggregated its data based on anonymized e-receipts from up to 353,926 U.S. online shoppers—the size of the user base varies per chart. But without official figures, it is impossible to determine if the data is accurate—Apple could easily follow up with very different numbers.