Tonight at its CES 2017 keynote event, Nvidia announced GeForce Now for Mac and PC, a cloud gaming service that allows low-end Mac and PC users to play high-end PC games. The service is similar to an identically-named service for Nvidia Shield users.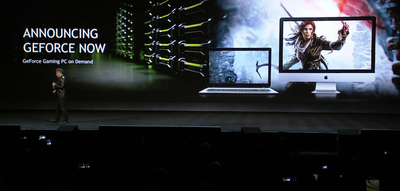 Nvidia says that there are an estimated 1 billion PC users who have integrated GPUs that can't play games "to their full potential." GeForce Now allows those users to access a Pascal-powered PC in the cloud to play games to their full potential.
In addition to letting users with low-end computers play high-end games, the service will become one of the few ways Mac users can play the latest AAA PC games. According to The Verge, Nvidia showed off the service by playing Rise of the Tomb Raider on an iMac. Rise of the Tomb Raider is not yet available for macOS.
GeForce Now doesn't stream games from the cloud to a user's computer, similar to how Netflix streams movies to various devices, reports Engadget. GeForce Now is more like a high-end PC in the cloud that runs a user's games. Users will have to purchase their games from online distributors like Steam and Origin. Once they're purchased, they can use the power of GeForce's GRID servers to run them on their computers.
The service will cost $25 for every 20 hours of play. Nvidia says the service will start rolling out in March