Apple to Hold New Year's Sale in Japan Starting January 2
Starting on January 2, Apple plans to hold a special New Year's Sale both online and at all of its retail locations in Japan, continuing a long tradition of offering something special on January 2 in the country.
Up until 2016, Apple took part in the Japanese tradition of offering "Fukubukuro" or "lucky bags" to customers. Fukubukuro used to contain an assortment of random Apple products at a price of approximately $300. Some bags contained things like backpacks, speakers, and other small accessories, but there was always a chance to win a larger product, like a MacBook Air or an iPad.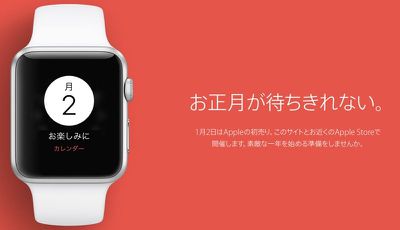 The Fukubukuro tradition is still ongoing in Japan, but 2015 was the last year that Apple participated, opting instead for in-store sales and doing away with the long lines retail locations used to see as people hoped to snag one of the limited edition bags.
It is not clear what kind of discounts Apple will be offering on January 2, but it could be similar to the Black Friday event in the United States, which saw the company offer Apple Store gift cards up to $150 with the purchase of Macs, iPads, iPhones, and more.
Apple is also likely to offer additional sales in various countries around the world ahead of Lunar New Year, set to take place on Saturday, January 28.