Japan Apple Stores Kick Off 'Lucky Bag' Sales with MacBook Air, iPads, iPod Touch Featured
Apple's retail locations in Japan have begun sales of the "Fukubukuro", also known as a "lucky bag", which offer an assortment of products at a steep discount. Japanese blog Mac Otakara (Google Translate) was present at the Apple Store in Nagoya to discover the exact content of the various bags among customers, with some shoppers receiving big-ticket items like iPads and MacBooks.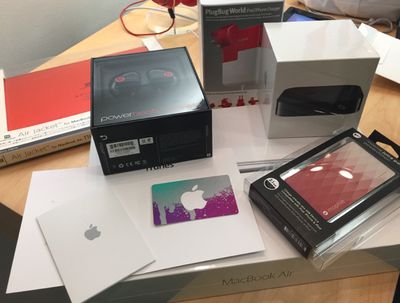 This year's lucky bags sell for 36,000 yen ($300) and come in four different configurations, with common items including an Apple TV, a 4000 mAh Mophie Powerstation external battery pack, an Incase Icon backpack, an iTunes gift card, and Beats by Dre Powerbeats2 wireless earbuds. For the most valuable Fukubukuro bag, Apple included an 11-inch MacBook Air with a Power Support Air Jacket and a Twelve South PlugBug dual charger along with the common items.


Other variants of the bag offer a fifth-generation 16GB iPod touch, a 16GB iPad mini 3 or a 16GB iPad Air 2 alongside the common items. The iPad lucky bags also feature Logitech's UE Boom portable speaker.


Apple's grab bags are sold as is, and returns are not allowed unless a product is defective. The promotion is limited to Apple Stores in Japan, although they are usually met with long lines of shoppers hoping to purchase their own lucky bag.