What to Buy With the iTunes Gift Card You Unwrapped Today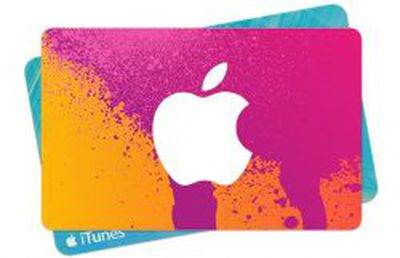 iTunes gift cards are a common gift for the tech enthusiast during the holidays. The cards can be used to purchase apps, games, music, movies, TV shows, books, and more, making it difficult to decide what to buy with your freshly unwrapped gift. We're here to help with some hand-picked recommendations.
Didn't get an iTunes gift card under the tree? PayPal is offering 10% off iTunes e-gift cards through December 30 in the United States for use on U.S. storefronts only. Available denominations include $25, $50, and $100 for $22.50, $45, and $90 respectively. PayPal is also offering a $50 iTunes e-gift card for $42.50 via eBay in the United States for a limited time. While iTunes gift cards can occasionally be found for 15% off, these are a few of the best deals currently available.

Harry Potter and the Cursed Child
Harry Potter and the Cursed Child is the script for a two-part play based on a new original story J.K. Rowling helped to write. The book was released in July as the eighth story in the Harry Potter series, nearly a decade after the final Harry Potter and the Deathly Hallows book was released.


The story begins 19 years after the events of Harry Potter and the Deathly Hallows. Harry Potter is now an overworked Ministry of Magic employee, a husband, and father of three school-aged children, including his youngest son Albus, who struggles with the weight of a family legacy he never wanted.
Harry Potter and the Cursed Child is available in a digital format for $14.99 on the iBooks Store [Direct Link] for iPhone, iPad, and Mac.

Texture — Unlimited Access to 200+ Magazines

Texture is an iPhone and iPad app that provides unlimited access to over 200 of the world's most popular magazines for $9.99 per month. New users who purchase a subscription as an in-app purchase get a 7-day full trial.
Some of the magazines available include People, Vogue, Rolling Stone, National Geographic, GQ, Sports Illustrated, Wired, Maxim, Men's Health, GQ, Bloomberg Businessweek, ESPN, Entertainment Weekly, and many others.
Magazines can be read on up to five devices per subscription, including offline by tapping download on a specific issue. Both new issues and a searchable archive of over 5000 past issues are available. A full catalog of available magazines, additional details, and sign-up promotions can be found on the Texture website.
Texture is a free download on the App Store [Direct Link] for iPhone and iPad. The app won a Best of 2016 award on the App Store.

Super Mario Run
Super Mario Run launched on the App Store for iPhone and iPad ten days ago, becoming the first official smartphone and tablet game featuring the iconic Nintendo character. The game is free to try for the first three courses, while unlocking all 24 courses in the World Tour requires a one-time $10 in-app purchase.
The game is a timed runner designed for one-handed gameplay. Mario runs forward automatically as players tap to jump, collect coins, pounce on Goombas, avoid obstacles, and reach the flagpole at the end of each course before the timer runs out. In the end, Mario must rescue Princess Peach from Bowser.
A challenge mode called Toad Rally allows players to compete with friends or strangers to see who can obtain the highest score while performing stylish moves. Toad Rally requires Rally Tickets, which can be acquired in a variety of ways, such as clearing worlds or through bonus games in your own kingdom.
Meanwhile, a Kingdom Builder mode enables players to create their own kingdom and customize it using coins and toads gathered in Toad Rally. Super Mario Run has since gained a new Friendly Run mode similar to Toad Rally, but items, coins, or new toads collected do count toward a player's public totals in this mode.
Super Mario Run has been downloaded over 40 million times, but some players have criticized the $10 cost to unlock the full game due to limited gameplay. But, in the game's defense, there are technically 72 courses given players have to collect pink, purple, and black challenge coins on each of the 24 courses.
Super Mario Run is available on the App Store [Direct Link] for iPhone and iPad. An always-on Wi-Fi or cellular connection is required.

Apps on Sale
A number of popular iPhone and iPad apps are on sale through the holidays, including Day One, Tweetbot, Alto's Adventure, Byword, djay Pro, Duet Display, NBA 2K17, Limbo, SteamWorld Heist, Severed, Battleheart Legacy, PCalc, Pennies, Drafts, Don't Starve: Pocket Edition, Broken Age, and many others.


More deals, including discounts on Mac apps, can be found on AppShopper or in the App Santa promotion, which runs through December 26. TouchArcade has also finalized its list of the 100 best games available this year. As a reminder, no new or updated apps will appear on the App Store until after December 27.

Apple Music Subscription
iTunes gift cards can be used to pay for an Apple Music subscription, which costs $9.99 per month for individuals, $14.99 per month for families with up to six people, and $4.99 per month for students in the United States and Canada. Prices and student plan availability vary in other countries.
Those looking for a slightly better deal on an annual Apple Music subscription should consider a 12-month
Apple Music gift card
, which Apple sells for $99. A 12-month subscription to Apple Music normally costs $120 when paying for the service directly with iTunes credit or another form of payment, so you can save $20.
Minecraft for Apple TV
Minecraft for Apple TV launched last week, giving players the familiar task of venturing into a randomly generated world and customizing it to their liking.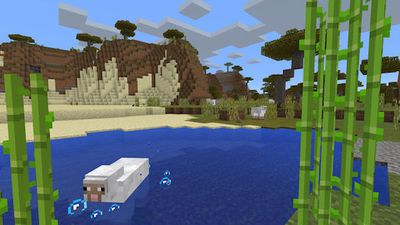 Minecraft: Apple TV Edition is $19.99 and can be purchased directly from the tvOS App Store on the fourth-generation Apple TV.

Holiday Movies
With the holidays and winter weather upon us in the northern half of the world, now is a better time than ever to snug up on the couch and relax. Apple is offering a wide range of holiday movies in HD for $10 or less in the United States for a limited time, so this may be a good way to spend some iTunes credit.
• Elf
• National Lampoon's Christmas Vacation
• Home Alone
• Home Alone 2: Lost in New York
• Dr. Seuss' How the Grinch Stole Christmas
• The Polar Express
• A Christmas Story
• It's a Wonderful Life
• Love Actually
• The Night Before
• Mickey's Christmas Carol
• The Muppet Christmas Carol
• A Christmas Carol (2009)
• A Christmas Carol (1984)
• Tyler Perry's a Madea Christmas: The Movie
• Miracle on 34th Street (1947)
• Miracle on 34th Street (1994)
• The Santa Clause
• Bad Santa
• The Holiday
• This Christmas
• The Family Stone
• Last Holiday
• Jingle All the Way
• A Very Harold & Kumar Christmas
• Scrooged
• The Best Man Holiday
• The Family Man
• Adam Sandler's Eight Crazy Nights
• Mickey's Once Upon a Christmas
• Black Nativity
• Fred Claus
• The Perfect Holiday