Apple's Best of the App Store in 2016:' Prisma' and 'Clash Royale' Win Top Honors
Apple today published its annual Best of 2016 charts for the App Store, iTunes Store, and iBooks Store, naming photo editing app "Prisma" as the iPhone App of the Year and "Clash Royale" as the iPhone game of the year.
Released in June of 2016, Prisma is designed to turn photographs into works of art using a range of different filters. Prisma garnered a lot of interest in 2016 and continually introduced new art filters.
Clash Royale, named Apple's best game, first came out in March of 2016. A card based game, Clash Royale encourages players to collect dozens of cards from the Clash of Clans universe and duel other players.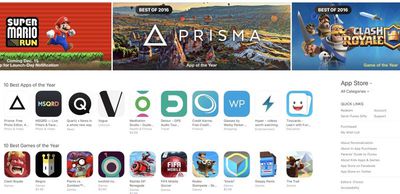 Apple also chose top apps and games for the iPad, Apple TV, and Apple Watch, with all of the top picks listed below:
iPhone App of the Year: Prisma
iPhone Game of the Year: Clash Royale
iPad App of the Year: Sketchbook Motion
iPad Game of the Year: Severed
Apple TV App of the Year: Twitter
Apple TV Game of the Year: Riptide GP: Renegade
Apple Watch App of the Year: MySwimPro - Personal Swim Trainer
Apple Watch Game of the Year: Field Day
Mac App of the Year: Bear
Mac Game of the Year: Life is Strange
Apple has named face-shifting app "MSQRD" as the runner up for best iPhone app, and swipe-based game "Reigns" as the runner up for best iPhone game, both of which are showcased alongside the winners in the main banner in the App Store.
Two new App Store sections, "10 Best Apps of the Year" and "10 Best Games of the Year" further break down the best apps chosen by Apple's editors, highlighting apps like Quartz, Vogue, Hyper, Plants vs. Zombies, Rodeo Stampede, and more. There are separate sections for both iPhone and iPad apps and games, each with different picks.
There are also a selection of apps in categories that include games playable on one hand, card-based games, celebrity games, video making apps, tap-based games, productivity apps, shopping apps, indie games, coding apps, and more.
In the Mac App Store, Apple has also published a full list of its picks for best Mac apps, with selections that include Spark, Polarr Photo Editor, Mini Metro, Doo, XCOM 2, Darkest Dungeon, Day One, Layers of Fear, and OmniGraffle 7.
Finally, Apple has announced the top apps based on overall App Store charts throughout the year, with Snapchat winning Top Free iPhone App and Heads Up! winning Top Paid iPhone App. For the iPad, YouTube was the top free app and Minecraft: Pocket Edition was the top paid app, while Netflix was the top free Apple TV app and Earthlapse TV was the top paid Apple TV app.
All of Apple's best app picks can be found in the App Store, with similar lists available naming the best music, TV shows, movies, and books in the iTunes and iBooks Stores.