First LG UltraFine 5K Displays Arrive Early for Lucky Customers
While the LG UltraFine 5K Display went on sale earlier this week, it was actually the second time it became available for purchase. Apple very briefly accepted orders for the display in late November, possibly by mistake, and some lucky customers who bought one received six to eight week shipping estimates.
Apple emailed some of those first-wave customers earlier this week to let them know their order would be shipping sooner than expected, typically with an expected delivery date of December 28 to December 29. But, in the United Kingdom at least, at least a few lucky customers received their displays today.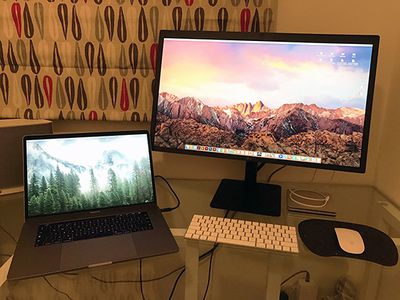 LG UltraFine 5K Display delivered to a lucky customer in the United Kingdom
"I ordered literally within seconds of them going on sale, with estimated delivery of December 28-30,"
said
MacRumors forum member Stealth66, who ordered two LG UltraFine 5K displays. "I received a shipping email out of the blue yesterday afternoon, and they were delivered today by UK Mail."
"I've used Apple's Thunderbolt Displays for a few years and I must say these LG 5Ks are awesome," he added. "Very bright, incredibly sharp, and worked flawlessly out of the box, just like an Apple product! It works fine with the Belkin Ethernet adapter plugged into the back of the display."
The forum member noted the Thunderbolt 3 cable included in the box with one of the displays was defective, prompting him to make a Genius Bar appointment to obtain a replacement cable.
MacRumors forum member iBrooker, located in Wales, said his LG UltraFine 5K Display coincidentally arrived today at the same time as his new MacBook Pro, with the deliveries handled separately by couriers DHL and DPD.
"I've spent a couple of hours setting it all up and have to say the display itself is stunning," said iBrooker. "However, I'm still a bit peed that there is no headphone out—so I will have to waste one USB-C port for that. I am not fussed on the built in speakers, and didn't really want/need a camera."
LG's UltraFine 5K Display, designed in partnership with Apple, connects to the new 15-inch MacBook Pro with a single Thunderbolt 3 cable, which provides up to 85W of power to charge the notebook. The 27-inch IPS LED display has peak brightness of 500 nits and a wide DCI-P3 color gamut for more accurate and vivid colors.
The display has an adjustable and removable stand with VESA mount, built-in camera, microphone, stereo speakers, and three downstream USB-C ports at 5 Gbps speeds. It has a 60Hz refresh rate and 217 PPI. The display can be purchased from Apple for $974 until March 31, when it increases to $1,299.95.
The majority of orders placed in late November should begin arriving to customers in the United States and elsewhere next week. Orders placed this week were initially estimated to ship in as few as 3-5 business days, but orders quickly became backlogged and shipping estimates slipped to 2-4 weeks.
For those still looking into purchasing a 4K or 5K display, be sure to consider the smaller LG UltraFine 4K Display or other USB-C displays available.