Apple's LG UltraFine 5K Display Now Available for Purchase for $974 [Updated]
Apple today started accepting orders for the LG UltraFine 5K Display, making it available for the temporary sale price of $974 in the United States. Orders will ship out to customers in six to eight weeks, and there is no in-store availability at this time.
The LG UltraFine 5K Display was first introduced at Apple's October 27 Mac event alongside a matching 4K Display, but until today, the 5K Display has been available for purchase, with Apple listing a vague availability date of "December."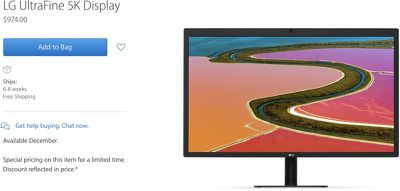 At the beginning of November, Apple dropped the prices on all USB-C adapters and accessories, including the LG UltraFine displays, by 25 percent through the end of the year.
Because the 5K UltraFine Display was not yet available for purchase, some worried that it would not be able to be bought for the sale price, but customers who make a purchase before the end of 2016 will be able to get the display for $974 instead of $1,299.
The LG 5K UltraFine Display was created in partnership with Apple for the new MacBook Pro. The display connects to the MacBook Pro over Thunderbolt 3 and include features like built-in USB-C ports for charging, stereo speakers, P3 wide color gamut support, a camera, and a microphone.
At the current time, the LG 5K UltraFine Display is only available for purchase in the United States and Canada. It remains unavailable for purchase in other countries, with a "December" availability date listed.
Update: The LG UltraFine 5K Display is once again listed as "Currently Unavailable" and cannot be purchased. It is not clear if supplies sold out or if Apple released it early and has rectified the mistake.