Uber has removed its fleet of self-driving cars from San Francisco streets on Wednesday after the California Department of Motor Vehicles revoked its vehicle registrations (via Reuters).
Earlier this week, the DMV ordered Uber to shut down its self-driving car test program and comply with regulations requiring a permit to test the autonomous vehicles on public roads. The order came after an Uber car was reportedly seen running a red light in downtown San Francisco, but the company refused to comply with the agency's demand, arguing that it did not require a permit because each of its 16 vehicles are continuously monitored by a driver and an engineer who sit in the front seats.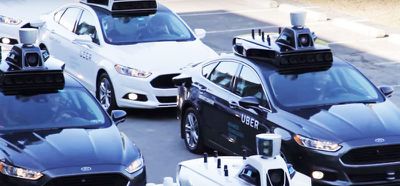 Uber disputed the interpretation by the DMV that the cars require a special permit and said the state laws were being unevenly applied, owing to the fact that the self-driving capabilities of Uber's fleet matched those of Tesla's vehicles, which have an optional "autopilot" feature.
Uber's defiance brought threats of legal action from the DMV and the state attorney general, but the dispute has apparently come to an end now that state officials have yanked registration for the cars used in the company's pilot program.

"We have stopped our self-driving pilot in California as the DMV has revoked the registrations for our self-driving cars," San Francisco-based Uber said in a statement emailed to AFP.

"We're now looking at where we can redeploy these cars but remain 100 percent committed to California and will be redoubling our efforts to develop workable statewide rules."
DMV director Jean Shiomoto said in a letter sent to Uber on Wednesday that she would "personally help to ensure an expedited review and approval process," for the required permits, which she said can take less than three days. It's still unclear whether Uber will take up the offer.
San Francisco was the company's second testing ground for its self-driving cars. Uber unveiled its autonomous car fleet in September in Pittsburgh. Uber launched its self-driving car program to passengers in the city on December 14 after testing the cars on San Francisco roadways for over a month.
Apple has met with California DMV officials in the past regarding self-driving car laws within the state, with its Apple Car team said to be focusing on in-car autonomous systems rather than developing an out-an-out vehicle.
Google has also scaled back its self-driving car ambitions, and is now reported to be working with established car companies to develop vehicles that will include self-driving features. Google's autonomous vehicles have clocked over two million miles of tests on public roads. Like Uber, the company has complained to authorities about the situation regarding nascent state and federal laws for self-driving vehicles.