Instagram announced today that it now has more than 600 million users, with the last 100 million of those users joining the photo and video sharing service in the past six months, a period in which it has added several new Snapchat-like features. Instagram has doubled the 300 million users it had in December 2014.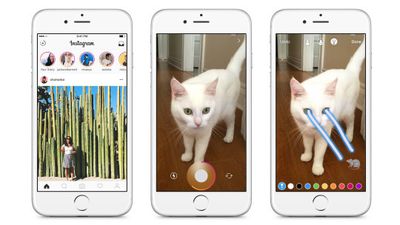 A lot has changed this year, but the Instagram community and the diversity of expression it provides has remained consistent. And you now have more ways to share than ever before with Instagram Stories, live video and disappearing photos and videos in Direct. Additionally, with updated safety tools that give you more control over comments and other parts of your experience, we're working to make Instagram safer than ever for connection and self-expression.
Instagram, owned by Facebook, has morphed into a Snapchat competitor this year with the addition of "Stories" that disappear after 24 hours, a new "Events" channel, and photos and videos that disappear in direct messages. Facebook has also wittingly added Snapchat-like features to Messenger.
Update: In related news, Facebook Messenger has been updated today with another new Snapchat-like feature enabling users to customize their photos and videos with text art, filters, stickers, and more, as reported by TechCrunch.