Instagram Just Became Snapchat With 'Stories' That Disappear After 24 Hours
Instagram today announced the launch of a new feature called "Instagram Stories," which lets its users post customized images and videos onto their profile, abiding by the ephemeral rule of rival service Snapchat: every post disappears completely within 24 hours. The company said that this lets users not have to "worry about overposting" and clogging up their profile in the process.
Stories will appear in a bar at the top of each user's normal Instagram feed, updating with new posts of all the same friends, family members, and popular accounts they follow. Each time someone posts a new picture or video within their Story, a colorful ring circles their profile picture. Jumping into Stories is as easy as tapping on one of those profile photos, and swiping to move back and forward through each user slideshow.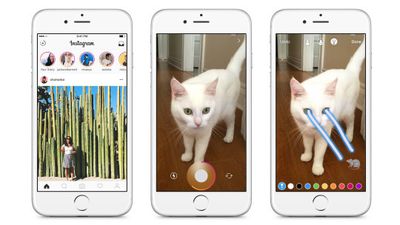 Today, we're introducing Instagram Stories, a new feature that lets you share all the moments of your day, not just the ones you want to keep on your profile. As you share multiple photos and videos, they appear together in a slideshow format: your story.

With Instagram Stories, you don't have to worry about overposting. Instead, you can share as much as you want throughout the day — with as much creativity as you want. You can bring your story to life in new ways with text and drawing tools. The photos and videos will disappear after 24 hours and won't appear on your profile grid or in feed.
Comments are allowed on Stories, but are only able to be sent through Instagram's direct message feature, because "unlike regular posts, there are no likes or public comments." Keeping in the vein of Snapchat, you can swipe up on your own story to see every Instagram member who has viewed the post so far. To add a bit of flair to a profile, users can also post specific Stories to their page if they decide they want to keep the photo or video longer than 24 hours.
Some users are reporting that the Instagram Stories update has already been added to their device via an update that describes only "Bug fixes and performance improvements," but the company itself mentioned that the update should begin rolling out to iOS and Android devices "over the next few weeks." You can download the Instagram app for free on the App Store. [Direct Link]