iPhone 8 to Feature All-Glass Casing in Order to Support Wireless Charging
Apple will switch to an all-glass casing for next year's entire iPhone lineup in order to support wireless charging, with Pegatron being the exclusive supplier of the wireless charger. That's according to the latest research note by KGI Securities analyst Ming-Chi Kuo obtained by MacRumors.
According to Kuo, the transition from metal to glass casing is key if Apple is to introduce a wireless charging feature in the 2017 iPhone. While patented engineering solutions do exist for wirelessly charging devices with metal cases, issues with wireless frequency tolerances for metal alloys can limit the speed at which charging takes place. On top of that, it is widely believed that Jony Ive has wanted to introduce an iPhone that looks like a single sheet of glass for several years.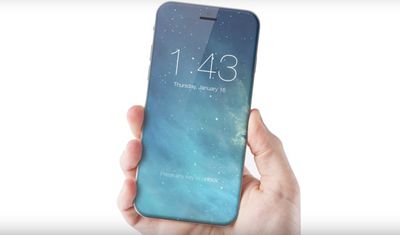 We believe one of the reasons why new iPhones will switch from metal casing to glass casing is to support wireless charging. In order to ensure a superior performance, we believe it is most appropriate for EMS suppliers to develop and make the wireless charger because then a comprehensive test can be conducted. As Hon Hai needs to deploy most resources to develop and produce OLED iPhone, we expect Pegatron will be the exclusive supplier of the wireless charger.
Kuo remains uncertain whether a wireless charger will be bundled with all new iPhones, but expects at least some models to be next year, with wider availability by 2018.
Kuo last week claimed that Apple will release 4.7-inch and 5.5-inch model iPhones with LCD screens as well as an all-new OLED model with a dual-lens camera. Kuo previously said Apple will launch a 5.8-inch iPhone with a curved OLED display and glass casing next year. He later said that model will have a 5.1-inch to 5.2-inch active touchscreen area. Barclays analysts said it will have a bezel-free design.
Multiple rumors have suggested Apple is set to introduce wireless charging into the "iPhone 8", despite the company downplaying the usefulness of the technology back in 2012. Last month it was reported that Hon Hai – better known as Foxconn – is testing wireless charging modules for use in the 2017 iPhone, although inclusion of the technology in the iPhone 8 was thought to be dependent on whether Foxconn can boost the yield rate to a satisfactory level.
Reports that Apple was exploring extended range wireless charging for the 2017 iPhone also appeared back in January. Extended wireless charging is considered superior to existing wireless solutions because it does not require the device to be as close to a charging mat or source.
Apple's 10th anniversary iPhone, which is expected to feature a major redesign with a glass body and edge-to-edge OLED display that integrates a Touch ID sensor and front-facing camera, is expected to arrive in September 2017.