Apple has announced it is opening a third retail store in Paris, France at Marché Saint-Germain on Saturday, December 3 at 10:00 a.m. local time.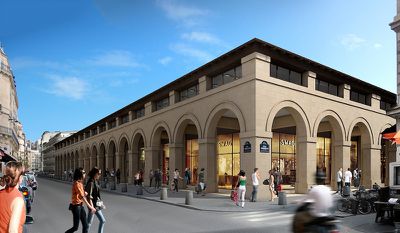 Marché Saint-Germain render based on renewal plans
Apple will be one of several new stores opening this month at Marché Saint-Germain, or the St. Germain Market, which has been under construction for several months following a
renewal project
. The market is centrally located in the
6th arrondissement of Paris
. Apple had been rumored to be a future tenant since 2015.
Apple Marché Saint-Germain will be the company's first new retail store since opening its Via Santa Fe location in Mexico in late September. Apple has two other stores in Paris at the Opéra de Paris and Carrousel du Louvre, along with an Apple Watch boutique at Galeries Lafayette. It will be Apple's 20th store in France.
Update: Apple is also opening a new store at Zhujiang New Town, an area in Guangzhou, Guangdong, China, on Thursday, December 1 at 10:00 a.m. local time.