iFixit has completed its teardown of the new 15-inch MacBook Pro with Touch Bar, confirming the notebook is equipped with a non-removable SSD just like the 13-inch MacBook Pro with Touch Bar. Only the entry-level 13-inch model with a standard row of function keys has a removable SSD in Apple's new MacBook Pro lineup.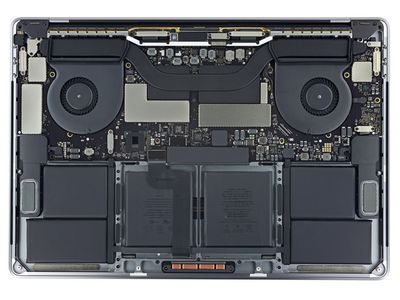 15-inch MacBook Pro with Touch Bar
The teardown confirms the processor, RAM, and flash memory are soldered to the logic board, meaning the SSD in particular cannot be removed or upgraded after the fact. If you opt for Apple's standard 256GB or 512GB configurations, for example, you will be unable to upgrade to a larger Apple or third-party SSD at a later time.
Interestingly, however, the teardown finds the new MacBook Pro has a connector that leads to "nowhere," which iFixit speculates could be for Apple to access the soldered-in SSD for data recovery. iFixit suggests there might at least be a chance of recovering data with Apple's help should the logic board experience hardware failure.


Apple's notebooks have become increasingly hard to repair and upgrade as their designs have become thinner and lighter. iFixit gave the new 15-inch MacBook Pro with Touch Bar its lowest "repairability" score of 1 out of 10, noting the Touch Bar is difficult to replace while the entire battery assembly is strongly glued into the case.
The rest of the teardown reveals the 15-inch MacBook Pro with Touch Bar is very similar to the 13-inch model, beyond having a different six-cell battery layout.