Teardown of 13-inch MacBook Pro With Touch Bar Reveals 'Cosmetic' Speaker Grilles [Updated]
iFixit has published a teardown of the new 13-inch MacBook Pro with Touch Bar and discovered a few interesting differences compared to Apple's new lower tier MacBook Pro sans Touch Bar. Both 13-inch models have the exact same dimensions, but the Touch Bar machine weighs 20 grams less, which iFixit puts down to the laptop's smaller battery.
As expected, Apple's new MacBook Pro is not designed to be user-serviceable, earning an iFixit repairability rating of 1/10. In the course of disassembly, iFixit found that the internal layout of the components has been redesigned to make space for the new Touch Bar, which broke as it was removed from the chassis and was deemed difficult to replace. The flex cable connecting the Touch Bar to the mainboard also wraps underneath it, making removal even more difficult.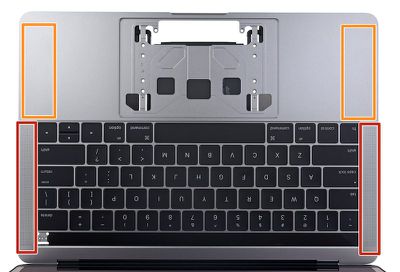 Orange boxes show where internal speakers are located.
iFixit also found that the new improved speakers are located in the lower portion of the case, while the external speaker grilles are positioned in the top half of the case and don't even go clear through to the internals, making them extremely unlikely to provide any outlet for audio. Instead, sound is thought to be projected from air vents on the sides of the case – a design feature not seen on the new 13-inch MacBook Pro with function keys.
iFixit also notes that fixing a faulty power switch likely involves replacing the entire logic board, because the button doubles up as a sapphire-topped Touch ID sensor which pairs with the Apple's soldered down T1 chip. Elsewhere, ten accessible screws hold down the new larger trackpad, which is identical to the one found in the 13-inch MacBook Pro with function keys, suggesting a replacement part would be cross-compatible.


Unlike the removable storage drive in the lower tier 13-inch MacBook, the SSD is soldered onto the mainboard, along with the RAM modules and the processor, making upgrades after the fact an impossibility. The 5-cell 49.2Wh battery is also attached with adhesive, making it particularly hard to remove when it comes to replacing.
Check out the full teardown on iFixit's website.
Update: iFixit contacted MacRumors to say that it has updated the teardown with an extra image that clarifies the situation regarding the speaker grilles. While the main speakers are not located underneath the grilles, a pair of tweeters that do sit under the grilles have through-holes (80 per tweeter) to pass sound out of the case enclosure. The rest of the "holes" either side of the keyboard (over 1,100 of them) are filled in, non-functional, and apparently cosmetic.