15-Inch MacBook Pro With Touch Bar Has Non-Removable SSD
While the new entry-level 13-inch MacBook Pro with function keys has a removable SSD, the same cannot be said for the Touch Bar model.
MacRumors reader Jesse D. unscrewed the bottom lid on his new 15-inch MacBook Pro with a Touch Bar and discovered, unlike the 13-inch model sans Touch Bar, there is no cutout in the logic board for removable flash storage. Another reader said the 13-inch model with a Touch Bar also has a non-removable SSD.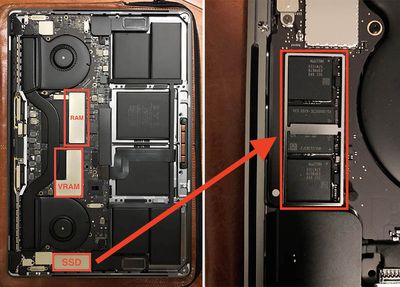 Given the SSD appears to be permanently soldered to the logic board, users will be unable to upgrade the Touch Bar MacBook Pro's flash storage beyond Apple's 512GB to 2TB built-to-order options on its website at the time of purchase. In other words, the amount of flash storage you choose will be permanent for the life of the notebook.
The discovery also increases the importance of backing up data using Time Machine or a similar solution in case of logic board failure.
These are the first MacBook Pro models to ship with non-removable SSDs, following in the footsteps of the 12-inch MacBook.
The photos also show "pretty large, nearly index finger width gaps" around the battery cells, possibly to keep the MacBook Pro's overall weight lower and to encourage better airflow. The fan placement and internal layout of Touch Bar models is significantly different than the standard function key model.
Official teardowns from the likes of iFixit and OWC should confirm and provide a better look at the non-removable SSDs.