New MacBook Pros Don't Include Backlit Apple Logo or Power Extension Cable
Apple's "Hello Again" event has come and gone, leaving us with an abundance of Apple-related news and updates heading into the weekend. Below, we have shared some of the more interesting tidbits that have surfaced over the past 24 hours.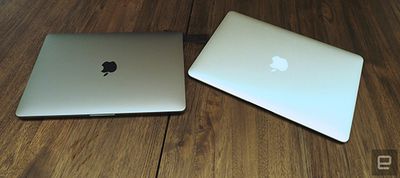 Image Credit: Edgar Alvarez, Engadget
Backlit Apple Logo Removed:
As it did with the 12-inch MacBook, Apple has removed the backlit Apple logo on new MacBook Pro models. In its place is a glossy Apple logo in black on the Space Gray model and in white on the Silver model. Apple's older MacBook Pros and 13-inch MacBook Air are now its only notebooks with backlit Apple logos that remain available for purchase. Apple's first notebook with a lit-up Apple logo was the third-generation PowerBook G3 released in 1999.
No Power Extension Cable: In line with the 12-inch MacBook, new MacBook Pro models do not come with Apple's Power Adapter Extension Cable in the box. Previous MacBook Pro models included the extension cable in the box for several years. The extension cable, which provides extra length between the power brick and wall outlet, can be purchased as a standalone product for $19.


Touch Bar Has Automatic Brightness: Jason Snell at Apple blog Six Colors spent time with the new MacBook Pro yesterday and discovered the Touch Bar's brightness is not manually adjustable. Instead, the mini Retina display's brightness varies based on lighting conditions, using the MacBook Pro's built-in ambient light sensor. Apple calls this feature Automatic Brightness on iOS devices. "I wasn't able to try and trick it or confuse it, but the entire time I was using it—in a dark room and in a much more brightly lit one—it seemed to match the keyboard well," he explained.
Price Changes: Apple's price changes extend beyond the United Kingdom. The 12-inch MacBook, for example, has increased $100 in price in Canada, where the 256GB model now sells for $1,649 and the 512GB model retails for $1,999. Meanwhile, the reverse has happened in Norway, where 12-inch MacBook prices have dropped by 1000 kroner for each model. Likewise, in New Zealand, 12-inch MacBook prices are now $200 to $250 lower depending on the model. These adjustments are common as Apple keeps its pricing in foreign currencies in line with the U.S. dollar.


1Password Shares Touch Bar Concepts: AgileBits was so excited about Apple's MacBook Pro event yesterday that it has created some mockups of how 1Password could work with the Touch Bar. 1Password users will be able to unlock the app with Touch ID, for example, while Touch Bar will make it easy to switch between password vaults, select new item types, and create website logins. 1Password also anticipates allowing users to slide their fingers across the Touch Bar to generate a strong password.
Know of an interesting Apple-related tidbit? Send an email to
tips@macrumors.com
or contact us on
Twitter
or
Facebook
.