Craig Federighi Says Touch Bar on New MacBook Pro Has 'So Much Potential' For Developers
YouTube tech reviewer Marques Brownlee has shared an exclusive interview with Apple senior vice president of software engineering Craig Federighi. The pair chatted about the new MacBook Pro and its customizable Touch Bar, which Federighi said is "going to be great" and has "so much potential" for developers.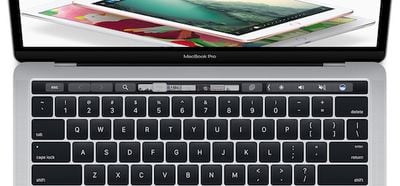 Touch Bar is a Multi-Touch strip of glass that replaces the standard row of function keys on the new MacBook Pros, providing users with system-level and app-specific controls that contextually change. For example, when a user types text in a document, the Touch Bar might include controls for adjusting the font face and size.
MacBook Pro users can interact with the Touch Bar using gestures. Tapping activates a control, such as a button, or selects an item, such as an emoji. Touching and holding initiates a secondary action on a control, such as a button. Panning moves an element, such as a slider of photos or emojis, from side-to-side.
The questions and answers below were edited slightly for clarity and brevity.
"Why now? Why 2016 for us to arrive at the Touch Bar?"
A lot of it came together in terms of the technology being just right to really pull this off in this kind of form factor — such as Touch ID and the quality of the display. We wanted it to feel just completely native to the keyboard and completely real — and be so responsive. We were able to take so much that we've learned in the hardware for iOS devices — and even so much of the security model of iOS, like for Touch ID — and incorporate some of our custom silicon to make it happen. A lot of things had to come together to make this possible. It's exciting to finally have it out.
"Similar to Touch ID in the iPhone, Touch Bar will get better with time, right? What are you most looking forward to seeing, maybe in a year from now, when we have these and developers get their hands on it? What kind of stuff should we expect to see?"
What's been really awesome is that we've brought some developers in over the past month — and we just showed a small subset of the ones that had come in and already started doing work — and they have a lot of great ideas. Look at djay Pro. It's so exciting when we develop a product and we have a vision of what we can do with it with our apps. We know inherently this is a device with so much potential because it's just a versatile Multi-Touch display. When you get it in the hands of these developers and it's like, "we didn't think of that, but that's just awesome."

I'm really excited about what we've seen so far. I think, of course, a lot of people will do buttons and sliders, but I think there will be this next wave where people say, "hey, this is like custom hardware." You can create the control that supports the best mechanic for whatever it is you want to do in your app, whether that's a game doing something really novel or music, which is so awesome for those kind of real-time capabilities. It's going to be great, but I'm really excited about how fast it's already happening. I think day one, you get one of these, and it's going to be great.


Apple's newly published design guidelines refer to the Touch Bar as an extension of the keyboard and trackpad, not the display. Apple does not want developers to include display alerts, messages, scrolling content, or static content in their Touch Bar extensions, but rather controls that resemble the appearance of the physical keyboard keys in terms of size and color.
Although technically it's a screen, the Touch Bar functions as an input device, not a secondary display. The user may glance at the Touch Bar to locate or use a control, but their primary focus is the main screen. The Touch Bar shouldn't display alerts, messages, scrolling content, static content, or anything else that commands the user's attention or distracts from their work on the main screen.
The guidelines also tell developers not to include functions solely in the Touch Bar to ensure backwards compatibility with older Macs. There must always be a way to perform tasks using the keyboard or trackpad. Apple also tells developers not to use Touch Bar for well-known keyboard shortcuts such as find, select all, deselect, copy, cut, paste, undo, redo, new, save, close, print, and quit.