Apple 'Monitoring' AT&T's Potential Time Warner Acquisition
Amid rumors suggesting AT&T is considering purchasing Time Warner, the parent company of networks like CNN and HBO, The Wall Street Journal says Apple is keeping a close eye on the situation as it would have a major impact on the television industry and could potentially impact future television deals Apple might make with the two companies.
Apple at one time was reportedly in talks with Time Warner about a potential streaming television deal and has been rumored to have been interested in purchasing Time Warner assets at one time, but negotiations stalled and the two companies are no longer holding talks.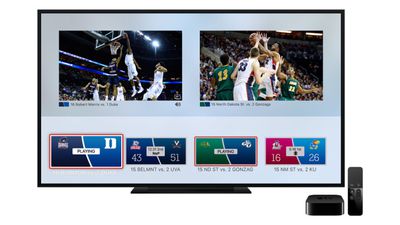 Apple Inc. a few months ago approached Time Warner Inc. about pursuing a combination, but the discussions didn't progress beyond a preliminary stage and none are currently under way, people familiar with the matter said Friday. [...]

From Apple's end, executives under Chief Executive Tim Cook were involved in the earlier talks, and now Apple is monitoring the current situation, one of the people said
Time Warner owns a huge number of assets that could have serve as the foundation of a streaming television service should Apple have struck a deal with the company. Networks like CNN, HBO, TBS, TNT, NBA TV, Cartoon Network, and Warner Bros. are all under Time Warner's umbrella, but with AT&T and Time Warner in "advanced talks" it seems unlikely Apple will do more than "monitor" the situation.
A deal between AT&T and Time Warner could be finalized as early as this weekend, but The Wall Street Journal suggests "a host of other contenders" could offer deals for Time Warner, putting an end to the AT&T acquisition.
Last year, Apple was pursuing a streaming television service that would allow it to offer a skinny bundle of channels from popular networks and cable companies for approximately $40 per month, but it wasn't able to establish the necessary deals and shelved its plans.
Apple is instead leveraging the Apple TV set-top box as a platform that allows cable companies and other content providers to offer television shows and apps through an Apple-designed interface and user experience.
Just this week, Apple iTunes chief Eddy Cue said that television "needs to be reinvented" and called existing television interfaces "pretty brain dead."