Apple's Eddy Cue on Existing TV Interfaces: They're 'Pretty Brain Dead'
Apple iTunes chief Eddy Cue today sat down with HBO CEO Richard Plepler for a joint interview during Vanity Fair's New Establishment Summit in San Francisco, where both spoke passionately about the television industry, the partnership between Apple and HBO, and how TV will improve in the future.
According to Eddy Cue, television "needs to be reinvented" because of confusing, hard to navigate interfaces. "You live with a glorified VCR," he said. "You're still setting things to record. There are 900 channels, but there's nothing to watch." He went on to say that there's incredible stuff to watch, but the interface makes it impossible to find content. "The problem is the interface," he said. "The ways you interface with it are pretty brain dead."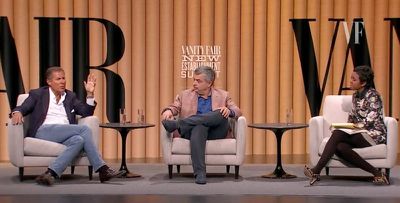 Because Apple has been unable to negotiate the deals it needs to create its own streaming television service, the company has taken another approach to revolutionizing the television experience, through the Apple TV. The Apple TV, with a full App Store, now serves as a platform that allows content providers to offer content while Apple exercises greater control over the interface.
Apple has been aiming to improve the way we interact with the television through features like Siri, universal search, and live tune-in, which allow users to conduct voice searches, find content across multiple apps, and play live content automatically without needing to search through a directory, all of which Cue alluded to in the interview.
Using HBO Now as an example, Cue said it's representative of a much better television service with an easier to navigate interface than what he sees on his cable box or satellite.
Cue believes that television will continue to improve gradually, getting better each year as restrictions relax and content providers become more comfortable with emerging technology. "It's moving rapidly," he said. "Look, it's gonna get better every year."
On competition, he said Apple can compete with companies like Netflix, Amazon, and Spotify but "still be together" because all of those services are on Apple's platform. Cue says Apple's platform will win if the company gives customers the best way to pay for and access content, even content coming from direct competitors.
On Apple's partnership with HBO, Cue said that though HBO has more than 1 million subscribers on Apple devices, the relationship between the two companies "at the beginning" and will continue. Both Cue and Plepler offered high praise for one another and said they have a strong partnership. Cue said he loves working with Plepler because he "cares about making the best stuff," while Plepler said Cue offers solid counsel and is easy to work with.
I said to him 'look, our natural DNA is not tech - it's content. We have a long learning curve and we could use your counsel and input.' They gave us great input and counsel. I call them for counsel all the time, so it's been a great partnership. [...]

They're a pleasure to do business with. I'll never forget that any time the two of us got on the phone when there was an impasse, we solved it together in 10 minutes. That's rare.
Despite Plepler's praise, Eddy Cue's "hard-nosed" negotiating tactics are said to be one of the reasons why Apple has not been able to establish a stronger foothold in the television industry with its own streaming service. Cue and Apple refuse to settle with content providers for less than what Apple wants, which led to Apple walking away from its latest streaming television plans after networks refused to unbundle channels and demanded higher prices than the company was willing to pay.
Apple's focus is now on the Apple TV set-top box and on serving as an intermediary between people and content, but the company is also making some investments in original television programming.