Apple Listed as 2017 Exhibitor at Mobile World Congress [Updated x2]
Apple Inc. has been listed as a 2017 exhibitor at Mobile World Congress, which is an oddity given the company's trade show presence has been virtually nonexistent since the company's final appearance at Macworld in 2009.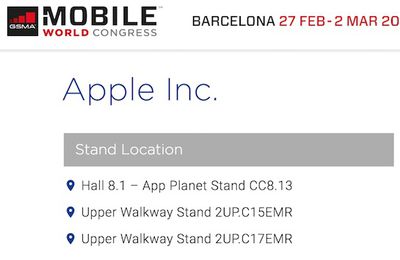 If the listing is accurate, it would mark Apple's first time attending Mobile World Congress, the world's largest exhibition and conference for the mobile industry. MWC 2017 runs between February 27, 2017 and March 2, 2017.
Babel PR pointed us towards Apple's exhibitor listing, which shows the company has booked space in the App Planet in Hall 8.1, as well as two spaces in the upper level that runs above Hall 2 in the Fira Gran Via Conference Centre.
App Planet is described as "a unique area focusing on the latest technology from the fast-moving apps industry," so Apple's presence could be related to promoting the App Store ecosystem or Planet of the Apps.
Apple's other upper level spaces appear to be meeting rooms, suggesting the company's presence may not be public facing. This would be unsurprising, given Apple has shifted new product announcements to its own media events.
Apple steadily stopped attending trade shows in the late 2000s, including the NAB Show, Macworld, and Apple Expo in Paris, and it has regularly passed on attending CES, the largest consumer electronics show, in Las Vegas.
In announcing its departure from Macworld, Apple said trade shows have become a very minor part of how it reaches its customers. For that reason, Apple's public presence at Mobile World Congress is questionable, although still plausible.
Apple is reaching more people in more ways than ever before, so like many companies, trade shows have become a very minor part of how Apple reaches its customers. The increasing popularity of Apple's Retail Stores, which more than 3.5 million people visit every week, and the Apple.com website enable Apple to directly reach more than a hundred million customers around the world in innovative new ways.
Should we receive confirmation about Apple's presence at Mobile World Congress, we will update this article accordingly.
Update: Shortly after we published this article, Apple was removed from the list of exhibitors.
Update 2: Apple told Babel PR it does "not have an official presence at the show," while the show's organizer GSMA told The Mobile Network it can "confirm that Apple will have meeting space at Mobile World Congress, as they have had previously."