Samsung has coordinated with aviation officials around the world to set up exchange booths in "high traffic" airport terminals for owners of recalled Galaxy Note 7 smartphones (via The Verge).
The booths first appeared in South Korean airports, with similar exchange sites set to open across Australia and the U.S. for travelers to hand in the potentially dangerous devices.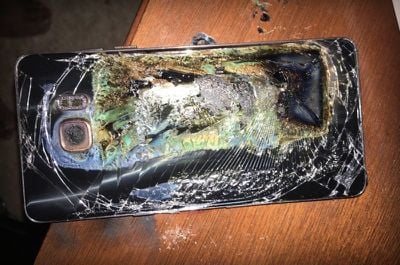 According to one reporter, a Samsung exchange desk manned by the company's staff is already operational at San Francisco's international airport.
It's now a federal crime to board a flight with a Note 7 phone, following two global recalls by Samsung that failed to stem reports of the devices setting on fire, which caused property damage and injuries. Anyone caught with a Note 7 on a plane risks facing fines and up to 10 years' imprisonment.
Samsung is said to have cut its third quarter operating profit by $2.3 billion and adjusted profit expectations from $6.9 billion to $4.6 billion, following its discontinuation of the ill-fated Note 7.
The company is set to overhaul its mobile strategy next year to ensure product quality,
according to one report
. A supply source told the
Korea Herald
that the company is likely to scrap its annual two-flagship models strategy in favor of focusing on a single device.
Speculation suggests that would be the Galaxy S8, expected to launch in late February 2017, although Samsung will probably shake up its marketing strategy before then, meaning the new phone could be rebranded.