Adobe today released new versions of Photoshop Elements and Premiere Elements, its affordable photo and video editing software aimed at consumers. Both Photoshop and Premiere Elements include new tools and enhancements to existing capabilities to make the photo and video editing experience even more streamlined and simple.
Photoshop Elements includes a new Transform tool that's able to turn frowns into smiles, adjust squinting eyes, and make other quick, easy adjustments to photos in a matter of minutes. Filters have been improved and can be layered and edited more simply, and there's a new Smart Tags system that scans images for content and makes it easier to find them based on subjects like cats, dogs, sunsets, birthdays, people, and more. Search using multiple terms is also available.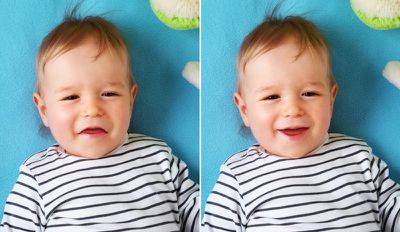 For those who are new to the photo editing process, Photoshop Elements has a range of new Guided Edits to do things like add text elements to photos, layer multiple effects, add motion blur behind subjects, turn photos into paintings with texture and color, and create custom frames.


On touch screen devices, which pertains to Windows machines, there are new options for using the Organizer and Quick Edit with touch-based gestures, an improvement also included in Premiere Elements. Both Premiere and Photoshop Elements also include integration with Facebook, YouTube, and other social networks to make it faster to share videos and photos.
Premiere Elements features a simplified search tool to quickly locate video content you want to work with, and there's a new tool for clearing haze from landscape shots for clearer video. As with Photoshop Elements, Premiere Elements includes new Guided Edits, including one that allows users to apply effects across multiple clips or an entire movie.


Face detection allows Favorite Moments to automatically locate the people in your videos to bring them to the front and center, a feature that's also new to Pan and Zoom and Smart Trim, enhancing the functionality of these tools. A new music remix feature lets users pick a music file that can be automatically rematched to the length of the movie, and there's a tool for creating dynamic collages from photos and videos.


Photoshop Elements 15 and Premiere Elements 15 for Mac and Windows can be purchased from Adobe's website for $99.99 each. Bundles are available for $149.99, and existing users can upgrade for $79.99 for one product or $119 for the bundle.