Microsoft Likely Discontinuing Microsoft Band Wearable Device
The Microsoft Band, the wearable device Microsoft first introduced in late 2014, is being quietly phased out of existence. As of today, Microsoft has removed all Microsoft Band models from the Microsoft Online Store and has eliminated the Band Software Development Kit.
In a statement given to ZDNet, a Microsoft representative said that the company has sold through all of its Band 2 inventory and does not have plans to release a new Band wearable in 2016.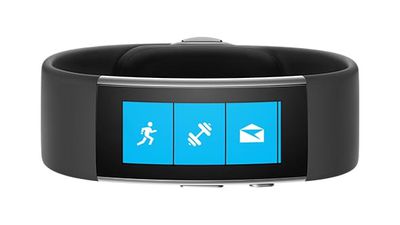 "We have sold through our existing Band 2 inventory and have no plans to release another Band device this year. We remain committed to supporting our Microsoft Band 2 customers through Microsoft Stores and our customer support channels and will continue to invest in the Microsoft Health platform, which is open to all hardware and apps partners across Windows, iOS, and Android devices."
Following the Microsoft Band's 2014 release, Microsoft continued development on the device and released a second-generation model in October of 2015. Priced at $250, the second-generation Microsoft Band featured an optical heart rate monitor for measuring heart rate, an accelerometer and gyroscope for measuring movement, GPS, skin temperature sensors, and more.
It received poor reviews for its price point, design, battery life, and lack of utility, and despite Microsoft's efforts to push sales with an Apple Watch trade-in program, the Microsoft Band 2 failed to catch on.
Previous information shared by ZDNet has suggested Microsoft disbanded the team that was working to bring Windows 10 to the Microsoft Band and has relocated some of the hardware team. Sources have also told the site that Microsoft is planning to phase out the fitness band and has no plans to work on a Band 3.