Microsoft Unveils $199 'Microsoft Band' Fitness Wearable
Shortly after apps on the Mac App Store and iOS App Store revealed Microsoft's fitness wearable, the company has revealed its $199 Microsoft Band fitness wearable to Re/code. The device will go on sale tomorrow at Microsoft's online and retail stores.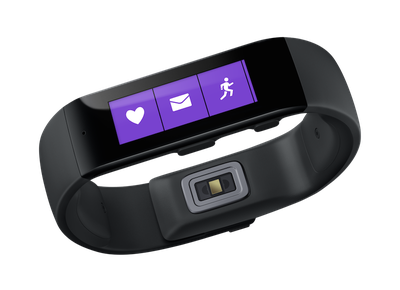 The Microsoft Band is designed to last 48 hours on a single charge and can be worn all day and all night, as it tracks both physical activity and sleep. It includes 10 sensors that track standard health statistics like heart rate as well as unique points of data that other fitness bands do not track, like a UV sensor to measure sun exposure and galvanic skin response, which can identify stress. Like smart watches, the Band can also receive notifications from a user's smartphone.
Microsoft is also launching a cloud-based health service called Microsoft Health, which can gather data from both the Microsoft Band and other fitness data gathering devices, like smartphones and other fitness bands. The service spans the web and multiple mobile platforms like iOS, Android and Windows Phone. The Windows Phone app, however, integrates Microsoft's voice assistant Cortana.
The company also says that the feature set of device and services will grow, as users will be able to pay for things at Starbucks with the Band and will be able to see how certain events influence health or sleep.

The company also notes that–if customers want to– Microsoft Health can combine work and personal data and gather insights such as how a big meeting with the boss affects that night's sleep. Other features include access to Facebook and Twitter feeds, as well as weather and stock data.
The Microsoft Band goes on sale tomorrow for $199.