Apple's iPhone 7 Smart Battery Case Offers 26% More Charge Than iPhone 6s Version
As customers around the world begin receiving Apple's iPhone 7 Smart Battery Case, it has now been confirmed that the charging case is rated for 2,365 mAh, a 26% increase over the iPhone 6s Smart Battery Case's 1,877 mAh rating.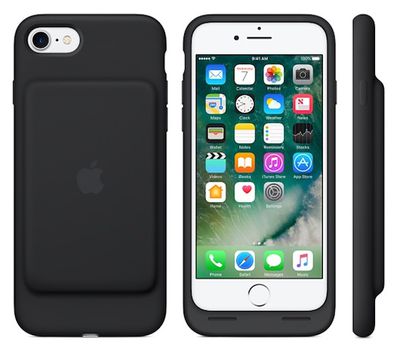 Chinese technical certifications revealed that the iPhone 7 likely has a larger 1,960 mAh battery, as previously rumored, meaning Apple's Smart Battery Case can charge the smartphone fully with roughly 17% capacity remaining.
Apple officially says a fully charged iPhone 7 with a fully charged Smart Battery Case can provide combined talk time up to 26 hours, internet use up to 22 hours on LTE, and video playback up to 24 hours.
When the Smart Battery Case is turned on, a battery status is displayed on the Lock screen and in Notification Center to keep track of its charge level. The case has a silicone exterior in white or black, while the inside has a soft microfiber lining.
The iPhone 7 Smart Battery Case is available now for $99 on Apple's website.