iPhone 7 Plus Teardown Confirms Longer-Lasting 2,900 mAh Battery and 3GB of RAM
iFixit has published a work-in-progress iPhone 7 Plus teardown that provides a closer look at the smartphone's internal components, including the battery, display, cameras, logic board, and Taptic Engine for the new pressure-sensitive Home button. Interestingly, the smartphone now opens to it side rather than to the top.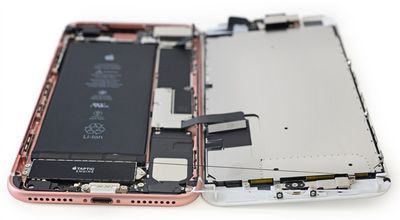 iFixit said the adhesive strip sealing the iPhone 7 Plus is "considerably stronger" than the strip it found in the iPhone 6s Plus, while opening the device revealed lots of glue running along the perimeter of the smartphone. The teardown experts believe the excess glue could be part of Apple's efforts to add water resistance.
The space previously occupied by the 3.5mm headphone jack on older iPhone models now houses the Taptic Engine and a plastic bumper internally covering the cosmetic speaker holes to the left of the Lightning connector. The small plastic piece is likely another waterproofing measure by Apple.
The teardown confirms the 5.5-inch model has a 2,900 mAh battery, which is just over 5% larger than the 2,750 mAh battery in the iPhone 6s Plus. The battery is rated at 3.82V and 11.1Wh of energy. Apple says the iPhone 7 Plus has up to 1 hour longer battery life than the iPhone 6s Plus.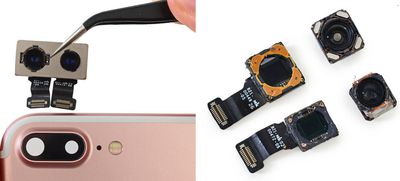 The iPhone 7 Plus camera array is as expected, including two separate sensors, two lenses, and optical image stabilization on the wide-angle lens.
Meanwhile, the logic board contains Apple's A10 Fusion chip, 3GB of LPDDR4 RAM from Samsung, and Qualcomm's Snapdragon X12 LTE modem for international markets (iFixit purchased their iPhone from Japan). Flash storage is supplied by Toshiba, while audio chips are supplied by Cirrus Logic.



Other interesting anecdotes include the continued use of pentalobe screws, rubber gaskets on the SIM tray and around the ring/silent switch for waterproofing, and confirmation that the pressure-sensitive Home button is still removable. Additional photos can be found on the iFixit website.
iFixit said it will start its iPhone 7 teardown following its iPhone 7 Plus and Apple Watch Series 2 teardowns.