Must-Have Sticker Packs for Messages in iOS 10
iOS 10 officially launched today, bringing a revamped Messages App with a full Messages App Store and support for all new sticker packs, which are set to replace emojis as the must-have way to express yourself visually while chatting.
There are already several dozen sticker packs available in the Messages App Store and that number will grow to hundreds in a short period of time, so we've rounded up some of the best iOS 10 sticker packs that are worth checking out. All app links are links directly to the App Store.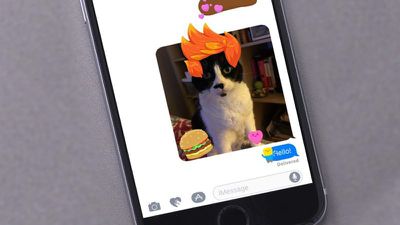 Wondering how to install sticker packs? Make sure to check out our how to.
Sticker Pals (Free) - Created by Impending, the team behind the adorable Hatch pet app, Sticker Pals features hundreds of animated stickers drawn by artist David Lanham. Focused around several characters, Sticker Pals is the most comprehensive sticker pack I've tested over the last several weeks, with an amazing art style and stickers to represent every emotion and action.
Since stickers can be layered, there's also a wide selection of wigs, glasses, and beards, along with emotive additions like hearts and explosions plus food, every day items, and more. There's even a built-in gifting feature for unlocking new stickers, along with extra packs available as in-app purchases. Impending has thought of everything, and as a free download, Sticker Pals is worth picking up.


IconFactory (Free to $0.99) - IconFactory has created multiple sticker packs for iOS 10, ranging from dinosaurs and marshmallows to pixellated food, magic eight balls, poop, flowers, and chimpanzees. Some of the stickers in IconFactory's sticker packs are animated, while others are static. All of them have different art styles, but high-quality artwork is a common denominator.




Disney ($1.99) - Disney has multiple sticker packs available, all organized by characters drawn in a cutesy style. Disney stickers are animated and high-quality, but pricy at $1.99 per pack. There are stickers for Frozen, Mickey & Friends, Stitch, Finding Dory, Beauty and the Beast, The Lion King, Inside Out, and Star Wars.


Super Mario Run (Free) - There's a sticker app available for Nintendo's upcoming Super Mario Run game, featuring a selection of non-animated Mario-themed stickers. There are different Mario poses, a "?" block, a mushroom, and Mario hat and nose that can be used on pictures.


Slicker Stickers (Free) - From JibJab, Slicker Stickers offers more than 300 animated stickers in simple styles. There are several different characters, each with a selection of animations to express different emotions. Characters include a rabbit, beer bottle, pug, cat, balloon, egg, frog, star, and more. It's worth picking up just for the variety.


Anitate ($1.99) - Anitate is another sticker pack that I've loved using over the beta testing period, mostly because of its clean, slick art style. Anitate features 86 animated stickers that mimic many emoji, along with a few fun additions. It's one of my most used sticker packs next to Sticker Pals.


Other stickers worth checking out:
- Retro Emoji - Kaomoji-style stickers
- Om Nom - Stickers featuring On Nom from Cut the Rope
- WWF Origami - Origami-style animal stickers from the World Wildlife Fund
- Comic Talk - Comic-style text-based stickers
- Emoji Stickers Pack - Includes stickers based on emoji, which can be combined together right in Messages.
- Pokémon Pixel Art - Pixellated Pokémon stickers from The Pokémon Company.
- Emoji Remix - Another app that lets users mix and match different artwork from classic emoji to create new sticker emoji.

App Stickers
In addition to dedicated sticker packs, many iOS apps and games are being updated with sticker apps that are available as iMessage add-ons. Here's a list of some of the notable apps that now offer stickers:
- Crossy Road
- Sky Safari 2
- Jetpack Joyride
- Trivia Crack
- Jelly Splash
- Dots & Co
- Alto's Adventure
- BADLAND
Have a favorite sticker pack you've come across? Share it with us in the comments.
Update: The Sticker Pals sticker app is now available for download.