Apple Collecting Customer Information in Effort to Address iPhone Upgrade Program Pre-Order Issues
Last week, we reported that the iPhone Upgrade Program caused frustration for some customers attempting to pre-order an iPhone 7 or iPhone 7 Plus.
Specifically, some customers enrolled in the program were unable to select the model, carrier, color, or storage capacity they desired, or any iPhone in some cases, due to limited stock seemingly as soon as pre-orders began.
The underlying reason appears to be that iPhone Upgrade Program members were placed into a separate stream than regular pre-order customers, and forced to reserve a new iPhone from a local Apple retail store -- many of which were sold out. Some customers were not even able to access the reservation system at all.
Since then, it appears that Apple has acknowledged those concerns and is attempting to help make the situation right for those affected.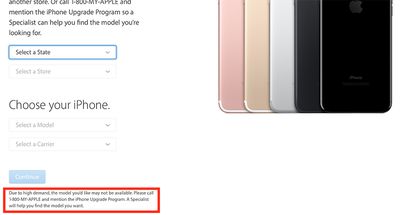 Over the weekend, Apple updated its upgrade reservation page with fine print that recommends customers call its support team at 1-800-MY-APPLE and mention the iPhone Upgrade Program. By doing so, the company said a Specialist will help customers find the iPhone 7 or iPhone 7 Plus model they want.
Due to high demand, the model you'd like may not be available. Please call 1-800-MY-APPLE and mention the iPhone Upgrade Program. A Specialist will help you find the model you want.
A number of MacRumors readers that followed through with calls said Apple was very apologetic and is manually collecting information while it works on a solution. Each customer was told they would receive a phone call back within 24-48 hours, but it isn't entirely clear what action Apple plans to take.
MacRumors reader Fikester shared his experience in our discussion forums:
The guy I talked to apologized profusely for Apple dropping the ball on this, took all my info regarding what model I wanted, and while he didn't promise anything, said they are working on a solution for it. He said they will call me within two business days with more information and sent me his direct contact info should I have questions. The whole call took about 30 minutes.
Some customers were given the impression that Apple will be prioritizing orders for iPhone Upgrade Program customers, possibly with some in-store stock reserved specifically for upgraders on launch day and possibly afterwards.
MacRumors readers Modernboy and Aaroncbell:
They've said that they are looking to prioritize iPhone Upgrade Program upgrades over the next couple of weeks so that we can get our phones. I highly suggest anyone who had the same issues I had to call and ask to speak to someone in the iPhone Upgrade Program department.
They transfer you to a special group who will take down all your info and what iPhone you want. They say they will then be in touch in 48 hours letting you know when your iPhone can be picked up. They told me they were very sorry that iPhone Upgrade Program users had issues and that they weren't prepared and are trying to make it right. They said their goal is to have iPhones ready for pickup on launch day for Upgrade Program users who call in.
Whether those enrolled in the iPhone Upgrade Program receive their new iPhones on launch day remains to be seen, but it is clear that Apple is doing what it can to improve the situation. In the meantime, customers can try their luck at Apple retail stores on September 16 on a first come, first served basis.