A10 Fusion Chip in iPhone 7 Plus Outperforms iPad Pro's A9X in Benchmark Tests
What appears to be a legitimate benchmark of an iPhone 7 Plus with an A10 Fusion processor has been spotted on Geekbench, and its performance scores are impressive. The A10 Fusion in the iPhone 7 Plus outperforms all existing iOS devices equipped with A9 and A9X processors, including the iPhone 6s, the iPhone SE, and the 9.7 and 12.9-inch iPad Pro models.
The iPhone 7 Plus received a single-core score of 3233 and a multi-core score of 5363. Comparatively, the iPhone 6s Plus averages a single-core score of 2407 and a multi-core score of 4046, while the 12.9-inch iPad Pro, which has the highest-clocked A9X chip, has an average single-core score of 3009 and an average multi-core score of 4881.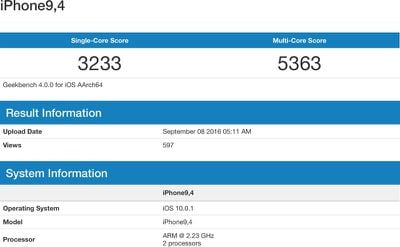 The iPhone 7 Plus is approximately 33 percent faster than the iPhone 6s when it comes to both single and multi-core scores, and approximately 7 percent faster than the 12.9-inch iPad Pro on single-core tests and nearly 10 percent faster on multi-core tests.


Apple's A10 chip is running at 2.23 GHz, which is potentially under-clocked because rumors suggested it would be capable of running at 2.4 to 2.45GHz. The A9X in the 12.9-inch iPad Pro runs at 2.2GHz, while the A9 in the iPhone 6s and 6s Plus runs at 1.8GHz.
In marketing materials, Apple says the A10 Fusion chip is the most powerful chip ever in a smartphone, running two times faster than the iPhone 6 with graphics performance that's up to three times faster. In Geekbench tests, the iPhone 7 Plus did indeed double the performance of the iPhone 6 Plus on both multi and single-core tests.
The A10 Fusion built into the iPhone 7 is a four-core processor with two high-power cores for handling system intensive tasks and two high-efficiency cores that kick in for less intensive processes to save battery life. Apple says that the iPhone 7 should offer approximately two hours more battery life than the iPhone 6s on average and the iPhone 7 Plus should offer approximately one hour of additional battery life compared to the iPhone 6s Plus.