Live Coverage of Apple's 'See You on the 7th' iPhone 7 Event
Apple's "See you on the 7th" event kicks off at 10:00 AM Pacific Time today, and we're expecting to see several product announcements including the iPhone 7 and 7 Plus, an updated Apple Watch, and perhaps some Beats and "AirPods" headphone news.
We'll also be hearing final details on the official release date for iOS 10, and probably macOS Sierra, watchOS 3, and tvOS 10. Today's event is being held at the Bill Graham Civic Auditorium in San Francisco.
Apple is providing a live video stream on its website and via Apple TV.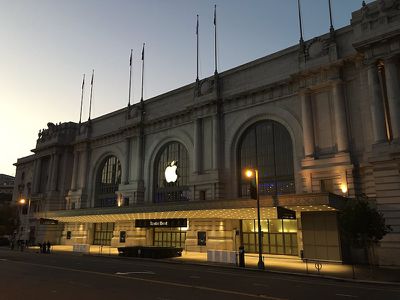 In addition to Apple's video stream, we will be updating this article with live blog coverage and issuing Twitter updates through our
@MacRumorsLive
account as the keynote unfolds. Highlights from the event and separate news stories regarding today's announcements will go out through our
@MacRumors
account.
Sign up for our newsletter to keep up with Apple news and rumors.
Apple's online stores around the world are currently down in advance of the event.
The full event transcript in reverse chronological order is available after the jump.

12:03 pm: Cook invites members of the press to a hands-on area. The keynote has officially concluded. Stay tuned to MacRumors.com for further updates.
12:02 pm: Sia performance still ongoing.
12:01 pm: While not announced on stage, Apple's website says macOS Sierra will be available September 20. tvOS 10 remains listed as "coming soon."
11:59 am: For those joining in late, there have been no announcements about the MacBook Pro or other Macs as expected.


11:53 am: Cook says the Bill Graham Civic Auditorium is a legendary music venue and invites songwriter Sia to perform on stage.
11:51 am: Apple CEO Tim Cook is back on stage to conclude the presentation. He asks everyone in attendance that worked on the new products to stand up. A big round of applause ensues.


11:50 am: AirPods will cost $159 and will be available in late October.
11:50 am: iOS 10 and watchOS 3 are available September 13.
11:50 am: iPhone 7 and iPhone 7 Plus pre-orders start September 9. Available on September 16 in dozens of countries. 30 more countries a week later.
11:49 am: iPhone Upgrade Program expanding to the UK and China.
11:49 am: iPhone 6s and iPhone 6s Plus will remain available in 32GB and 128GB storage capacities. iPhone SE remains 16GB/64GB.


11:48 am: iPhone 7 Plus starts at $769. Same five colors. 32GB, 128GB, and 256GB storage capacities.
11:47 am: iPhone 7 starts at $649. Silver, Gold, Rose Gold, Black, and Jet Black. 32GB, 128GB, and 256GB storage capacities.
11:47 am: New cases and charging docks will be available for iPhone 7 and iPhone 7 Plus.


11:44 am: Video summary of iPhone 7 and iPhone 7 Plus now playing.
11:44 am: iPhone 7 battery life: up to 40 hours of wireless audio, up to 13 hours of wireless video, up to 14 hours of Wi-Fi browsing, up to 12 hours of LTE browsing, up to 12 hours of 3G browsing, and up to 14 hours of 3G talk (wireless). iPhone 7 Plus has up to 60 hours of wireless audio, up to 14 hours of wireless video, up to 15 hours of Wi-FI browsing, up to 13 hours of LTE browsing, up to 13 hours of 3G browsing, and up to 21 hours of 3G talk (wireless).


11:41 am: ThisGameStudio co-founder Heather Price is on stage to give a demo of the A10 Fusion chip and Metal with a new game.


11:39 am: Console-level gaming is possible on the iPhone 7 due to the A10 processor.
11:39 am: iPhone 7 has up to 50% faster graphics performance. 240x faster graphics compared to the original iPhone.
11:38 am: iPhone 7 and iPhone 7 Plus have a new 64-bit four-core A10 Fusion chip. Two cores and two more high-efficiency cores that use 1/5 the power. Apple-designed performance controller. 40% faster processing than A9 chip in iPhone 6s and 2x faster processing than A8 chip in older iPhones.


11:36 am: Apple Watch Series 2 will also have Sony's Felica technology built in.
11:35 am: iPhone 7 and iPhone 7 Plus models in Japan will include Sony's Felica technology. Apple Pay will launch in Japan in late October.
11:34 am: Also new Powerbeats3 Wireless headphones.


11:34 am: Apple introduces new Beats Solo3 Wireless headphones with the same W1 chip as AirPods. Up to 40 hours of listening time on a single charge.
11:33 am: The AirPods and charging case can be charged together with a Lightning cable.


11:32 am: One-step setup across all Apple devices, including iPhone, iPad, Mac, and Apple Watch.
11:32 am: To setup AirPods, open their case near your iPhone and a menu will pop up on the smartphone's display with a Connect button. Simply tap the button and the headphones will be paired.


11:30 am: AirPods are completely cord free like the Bragi Dash. W1 chip inside provides a reliable wireless connection. Infrared sensors detect when each AirPod is in your ear. The headphones only play when they are in your ear. Motion accelerometer responds to your touch, allowing you to enable Siri with a double tap. Beam-forming microphones reduce external noise. Up to 5 hours of listening on a single charge. Compact charging chase delivers up to 24 hours of battery life.



11:28 am: Apple introduces wireless AirPods headphones.
11:27 am: Schiller also says space is at a premium in the iPhone, and the 3.5mm headphone jack took up a lot of space.
11:27 am: Why did Apple remove the 3.5mm headphone jack? Schiller says "courage." "Courage to move on."


11:26 am: Apple will include EarPods with a Lightning connector and a Lightning-to-3.5mm adapter in the box with iPhone 7.
11:25 am: Apple promotes digital audio and passthrough power as two benefits of the Lightning port, which allows for features such as active noise cancellation that are not possible with an analog port like the 3.5mm audio jack.


11:24 am: Apple is removing the headphone jack on the iPhone 7. EarPods will connect via Lightning port.
11:24 am: One speaker is along the bottom edge as usual, while the earpiece/receiver has been transformed into a full second speaker.


11:23 am: iPhone 7 has stereo speakers.
11:23 am: Instagram demo shows off new filters possible thanks to the display's wider color gamut. The new version of the app will be available later this year.
11:21 am: iPhone 7 Plus has a Retina HD display that is 25% brighter with a wider color gamut, cinema standard, color management, and 3D Touch.


11:20 am: The depth of field capabilities on iPhone 7 Plus will be available through a free software update later this year.
11:19 am: The depth of field can be seen directly in the Camera app with a new Live Preview feature.


11:17 am: iPhone 7 Plus can create amazing bokeh with two lenses, creating a depth map to keep people sharp while blurring the background.
11:14 am: Tap the new zoom button in the Camera app for 2x optical zoom with the telephoto lens. Or you can drag your finger across the zoom button for 1x-10x software zoom.


11:13 am: One camera has a 28mm wide-angle lens and the other has a 56mm telephoto lens. You can actively switch between them to zoom.


11:12 am: iPhone 7 Plus has two 12-megapixel cameras.
11:12 am: The new FaceTime HD camera has auto image stabilization, wider color aperture, and more. iPhone 6s front-facing camera had a 5-megapixel sensor by comparison.


11:11 am: iPhone 7 has a new 7-megapixel front-facing FaceTime HD camera.


11:11 am: iPhone 7 camera has a wider color gamut, improved noise reduction, image stabilization, and more. New capture and editing APIs for developers to implement in third-party apps.
11:08 am: New Apple-designed image signal processor.
11:07 am: iPhone 7 has an improved single-lens camera with optical image stabilization, a larger f/1.8 aperture that lets 50% more light onto the lens, a new six-element lens. New 12-megapixels sensor that is 60% faster and 30% more energy efficient. Quad-LED True Tone flash that has 50% more light with a new Flicker sensor that can compensate for artificial lighting.



11:06 am: iPhone 7 has IP67-rated waterproofing and dustproofing.


11:05 am: Home button: Reengineered to be force sensitive with a new Taptic Engine. Haptic feedback for Quick Actions, Messages, Notifications, and Ringtones.
11:03 am: New design. The new glossy black color is officially called Jet Black. There is also a new non-glossy black color called Black. Gold, Silver, and Rose Gold remain available as well. Repositioned antenna bands.


11:02 am: iPhone 7 has 10 major new features.
11:01 am: Apple marketing chief Phil Schiller invited on stage to talk more about the iPhone 7.
11:00 am: New glossy black color.
10:59 am: iPhone reveal video being shown, narrated by Apple's chief design officer Jony Ive.


10:58 am: iPhone 7. Dual cameras.
10:57 am: Cook shows how the Home app and Siri make it easier to manage HomeKit products. Cook says virtually every major manufacturer of home automation products now support HomeKit.


10:56 am: Cook talking about iOS 10 features such as Lift to Wake, third-party Siri capabilities, QuickType keyboard contextual predictions, Apple Maps reservations and rideshare booking, and more.
10:55 am: Cook reiterates that Apple has sold over 1 billion iPhones. "The best-selling product of its kind in the history of the world."
10:54 am: Apple CEO Tim Cook back on stage to talk iPhone.
10:54 am: Pre-orders for Apple Watch Series 2 will take place on September 9. Nike+ models are available late October.
10:53 am: Original Apple Watch is now called the Apple Watch Series 1 and gets the S2 processor upgrade and now starts at $269.
10:53 am: Apple Watch Series 2 will start at $369. Nike+ models will also start at $369.


10:52 am: Apple Watch Nike+ has four different colored bands available. They are all shades of black and gray.


10:51 am: Nike is demoing software features for runners, including the Nike+ Run Club and "Just Do It Sundays" invitations to join others on runs.


10:48 am: Apple has partnered with Nike to introduce the Apple Watch Nike+ model. Perforated rubber band. Nike logo on bottom. Custom watch face. Aluminum.


10:46 am: Apple Watch Series 2 will also have new Hermès models: Single Tour, Double Tour, Cuff, Double Buckle Cuff.


10:43 am: The hiking app ViewRanger, for example, provides users with notifications if they go off their route by accident.


10:42 am: GPS can provide a mapped route of your run. Developers can also take advantage of built-in GPS.


10:41 am: Apple Watch Series 2 has built-in GPS.
10:41 am: "Makes all the difference in bright sunlight."
10:40 am: 2nd-gen display that is 2x brighter. Brightest display that Apple has ever shipped on any product. 1000 nits.


10:40 am: Night Sky 4, for example, runs at 60 FPS.
10:40 am: Apple Watch Series 2 has a second-generation S2 system-on-a-chip with an up to 50% faster dual-core processor, an entirely new GPU that delivers up to 2x faster graphics performance.
10:39 am: watchOS will be able to provide swimmers with their active calories burned, stroke efficiency, number of laps completed, and more.
10:39 am: Williams is heavily promoting the Apple Watch Series 2 towards swimmers.


10:38 am: Internally, the Apple Watch Series 2 is capable of ejecting water using the vibration/movement of the built-in speaker.
10:37 am: The overall design of Apple Watch Series 2 looks virtually identical to existing Apple Watch models.
10:37 am: Apple Watch Series 2 is water resistant up to 50 meters.


10:36 am: The new lineup is called Apple Watch Series 2.


10:35 am: Williams is back on stage to introduce the "next generation" of Apple Watch. Video being shown.
10:34 am: Pokémon GO for Apple Watch will be available before the end of this year.
10:34 am: Eggs can be hatched directly on Apple Watch. The number of kilometers walked is also shown.


10:33 am: The app shows nearby Pokémon at a glance and taps you when you are near a Pokéstop. You can swipe Pokéstops directly on the Apple Watch to collect items.


10:31 am: Pokémon GO on Apple Watch demo up next.
10:31 am: Pokémon GO has been downloaded over 500 million times around the world since launching in early July. Players/trainers have walked more than 4.6 billion kilometers combined.
10:30 am: Williams invites John Hanke, founder and CEO of Pokémon GO developers Niantic Labs, to discuss more.
10:29 am: Pokémon GO is coming to Apple Watch.


10:27 am: Cook invites Apple COO Jeff Williams on stage to talk more about Apple Watch. He starts by summarizing watchOS 3 features such as Instant Launch and Scribble.
10:26 am: Apple Watch was the number two watch brand in the world based on revenue in 2015, trailing only Rolex.


10:24 am: Apple CEO Tim Cook back on stage to talk about new products. Apple Watch up first.
10:24 am: This includes the full iWork suite of iOS apps: Numbers, Pages, Keynote.
10:23 am: iWork now has real-time collaboration for collaborative editing. A demo is being shown on stage.


10:22 am: Apple CEO Tim Cook is talking about educational initiatives. 114 ConnectED schools with 50,000 students by fall. There is a new "Everyone Can Code" program part of Swift Playgrounds.
10:18 am: In a now-deleted tweet, Apple said the iPhone 7 is available for pre-order "now," suggesting directly following today's event. The tweet also confirmed a September 16 release date.
10:15 am: A new Super Mario sticker pack will be available on iOS 10.
10:15 am: The game will have a one-time price to be announced later. The game will be released in time for the 2016 holiday season.
10:14 am: Super Mario Run has a multiplayer Battle Mode where two players collect coins and gather toads. The coins collected can be used to expand your Mushroom Kingdom.


10:12 am: The game is an endless runner where Mario jumps, collects coins, and attempts to reach the flagpole at the end of the level before time runs out. The goal is to obtain the highest score possible. One-handed playing supported.


10:11 am: Miyamoto says the new iOS game will be called Super Mario Run.


10:09 am: Super Mario is coming to the App Store!


10:08 am: Another tweet from Apple about the iPhone 7: "New cameras. Water-resistant. Stereo speakers. Longer battery life." Tweet.


10:07 am: Apple has surprisingly tweeted about "the new water-resistant iPhone 7" on Twitter before even announcing it on stage. Twitter.
10:05 am: Apple Music now has 17 million paying subscribers, up from 15 million paying subscribers at WWDC 2016 in June.


10:05 am: Cook says new episodes of Carpool Karaoke will debut on Apple Music early next year.
10:04 am: Tim Cook is now on stage and is greeted with a big round of applause. "Good morning!"


10:02 am: Apple's event begins with a video of CEO Tim Cook singing with James Corden in a Carpool Karaoke type video. Apple recently bought the series to distribute via Apple Music.


9:43 am: Amazon has prematurely listed iPhone 7 cases and accessories on its storefront.
9:36 am: Photo by Andrew Cunningham.


9:21 am: Media waiting outside the auditorium. Photo by Ed Baig.


9:07 am: A reliable source has informed us that at least one courier is storing bulk iPhone 7 and iPhone 7 Plus units at several strategic locations within the lower 48 U.S. states. Based on logistics planning, our source believes the iPhone 7 and iPhone 7 Plus will launch on Friday, September 16, corroborating a date previously shared by noted leaker Evan Blass.
8:54 am: Tim Cook alluded to Apple Pencil support on iPhone (perhaps mistakenly) in an interview with NDTV's Vikram Chandra back in May: "And if you've ever seen what can be created with that pencil on an iPad or an iPhone, it's really unbelievable." Read about it here.
8:51 am: A source that has provided us with accurate information in the past says the iPhone 7 Plus will work with Apple Pencil, based on an alleged TV commercial recently filmed by Apple in New York City. The source could not confirm if the iPhone 7 will also be compatible. MacRumors has not independently verified the information and presents it only as a last-minute rumor.
8:47 am: We're under 75 minutes away from learning all about the new iPhone, Apple Watch, and more. Stay tuned!