Over the weekend, Apple journalist John Gruber highlighted a comment made by Tim Cook during an interview with NDTV's Vikram Chandra back in May, in which the Apple CEO was asked what he thought Steve Jobs would make of the Apple Pencil.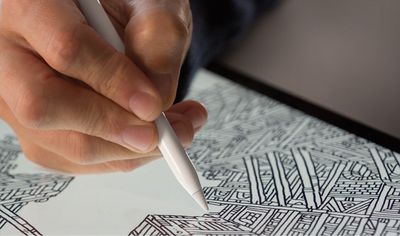 NDTV: Has that voice never come to you? For example when you launched the pencil and you know what Steve said,' if you see a stylus they blew it', when you launched that pencil?

Tim Cook: Well we launched a pencil, not a stylus, first of all, and there's a big difference, and the things that people are doing with this pencil, I think that Steve would have loved. He loved to help people create. And if you've ever seen what can be created with that pencil on an iPad or an iPhone, it's really unbelievable. You should really show some of these to your audience.
Gruber wondered whether Cook had simply misspoken, or if he had perhaps let slip that Apple was internally using the Pencil with its upcoming iPhone.
Apple's Pencil currently only works with the iPad Pro because of the display technology required to achieve the tool's high responsiveness: the iPad Pro's screen features a subsystem which scans the Pencil's signal 240 times per second, enabling it to detect position, force, and tilt at the individual pixel level.
KGI Securities analyst Ming-Chi Kuo has previously claimed Apple will release new iPad Pro models next year, but with the fate of the iPad mini uncertain, it's conceivable that Apple may discontinue the tablet and pitch the iPhone 7 as its smallest creative device by adding support for the Apple Pencil. Alternatively, it could restrict support for the tool to the iPhone 7 Plus, which would serve to further differentiate it from the new 4.7-inch handset and give pre-recall users of the Galaxy Note 7 – which has a stylus – another reason to consider switching devices.
Based on display improvements introduced in the 9.7-inch iPad Pro, DisplayMate's Ray Soneira has speculated the iPhone 7 display could include similar features such as True Tone, as Apple often expands display advancements across its entire product lineup. Whether or not this includes the subsystem required to support the Apple Pencil remains unclear.
With just hours to go before Apple's iPhone 7 event, we'll know for sure later today. Apple will provide a live stream of the keynote on the Apple TV and on iOS and Mac devices through its website, starting at 10:00 a.m. Pacific Time. MacRumors will also have full coverage of the event, with a live blog on our front page at MacRumors.com and updates in 140 characters or less through our @MacRumorsLive account on Twitter.