Following today's iPhone-centric event, Apple has quietly announced that Japanese carrier SoftBank is the latest Apple SIM partner. Apple SIM has also expanded to three additional countries and territories: Guam, Kenya, and Mauritius.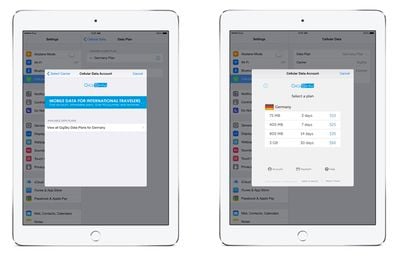 Apple SIM is embedded in the latest cellular iPads and enables users to easily switch between different short-term data plans from select carrier partners without needing multiple SIM cards. It is particularly useful for traveling abroad.
Through an existing partnership with GigSky, Apple SIM is available in over 140 countries. Other Apple SIM partners include AT&T, Sprint, and T-Mobile in the United States, EE in the United Kingdom, Deutsche Telekom in Germany, Three in Hong Kong, and au by KDDI in Japan. AlwaysOnline Wireless also offers pay-as-you-go LTE data plans in at least 45 countries, with the option to pay by hour, day, or megabyte.
Apple SIM can be purchased from Apple retail stores in Australia, Canada, France, Germany, Italy, Japan, the Netherlands, Spain, Sweden, Switzerland, Turkey, the United Kingdom, and the United States.