Apple's Five-Year-Old Twitter Account Gets Active Ahead of September 7 Event [Updated]
Created five years ago in September of 2011, Apple's official twitter account, @Apple, has begun stirring today. The company updated the page with a new logo -- a classic black Apple image on a white background -- and the same teaser art for next week's September 7 event that was included on invites earlier this week.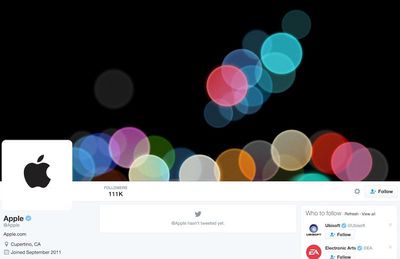 Although Apple appears to be preparing a new section of its social media presence, the account has yet to tweet anything to its more than 110,000 followers. With the timing of the reactivation, and the similar art, it seems likely that Apple will begin using the account to share news and updates from its event in the Bill Graham Civic Auditorium in San Francisco, California.
Apple hasn't been completely averse to social media, since over the past few years the company has created Twitter accounts for iBooks, Apple Music, iTunes, and just this year began bolstering its presence on Twitter with Apple Support and Apple News. Apple was recently rumored to be working on a social media app of its own for launch in 2017, with similarities tying its video-heavy features more to Facebook and Snapchat than to Twitter.
Update: Apple's Twitter account has shared a promoted tweet reminding users about next week's event. Users can retweet the status to get an event reminder.
(Thanks, James!)