Apple's Deep Pockets Affecting Spotify Contract Renewals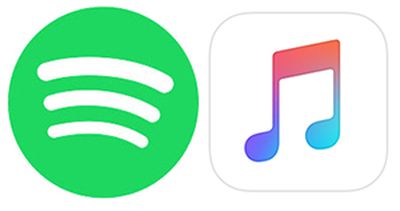 Several of Spotify's contracts are up for renewal and the high rates Apple pays record labels are affecting Spotify's negotiations, reports MusicBusinessWorldwide. As it considers a future IPO, Spotify is aiming to strike long-term deals with record labels at lower rates, while labels want Spotify to pay as much as Apple does.
Spotify reportedly pays record labels 55 percent of its revenue, while Apple Music pays 58 percent (Apple is also said to pay more to publishers than Spotify does). Spotify was initially given a "marketing discount," but now record labels want Spotify to pay what Apple pays. Meanwhile, Spotify, in an effort to become profitable, wants to pay less.
The major labels, unimpressed with some of Spotify's recent spending decisions, believe that now's the time to up this figure. So where do they want to take it?

Well, it's common knowledge that Apple Music is paying 58% of revenue to labels - after users' free trial periods have finished. The majors want Spotify to move its revenue share up towards that point.

Loss-making Spotify, though, is attempting to push this revenue share down, say MBW's sources. Yup: that means paying labels and artists a smaller slice of the proceeds.
Spotify is arguing that Apple's revenue share rate only applies after a three-month free trial and that it simply doesn't have the spending power of Apple, Google, or Amazon, three of its main competitors all with deep pockets, large user bases, and other sources of revenue.
Negotiations remain "optimistic" according to MBW's sources, and the "likely outcome" is a licensing deal similar to the one Spotify has had for the last few years, but a deal has yet to be struck. Spotify is said to be considering "windowing" or making some new releases temporarily exclusive to paying customers as a way to lure labels into accepting a lower rate.
Spotify's contracts with Universal Music Group, Warner Music Group, and Sony Music Group are all expired, and while Spotify continues to license content on a month to month basis, the absence of a long-term plan could potentially affect the company's IPO plans. It is, however, said to be "out of the question" that the three major music labels will pull their content from Spotify.