256GB Storage Rumor Gaining Steam as iPhone 7 Launch Approaches
iPhone users that elect not to use iCloud storage will be pleased to learn that another source has thrown its weight behind at least one iPhone 7 or iPhone 7 Plus model having 256GB of flash storage.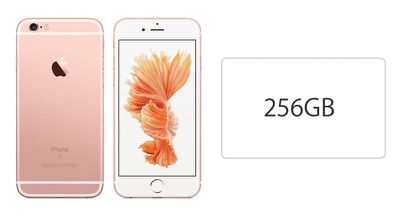 DigiTimes, citing industry sources, is the latest to claim the iPhone 7 will feature up to 256GB of storage, corroborating previous reports from Chinese website MyDrivers and Taiwanese research firm TrendForce.
NAND flash vendors have increased chip prices citing strong demand for new smartphones particularly the iPhone 7 featuring up to 256GB of storage, according to industry sources. Prices will keep soaring until the fourth quarter of 2016.
In July, The Wall Street Journal confirmed the iPhone 7 will start with 32GB of storage, replacing the infamous 16GB base tier offered since the iPhone 3GS. Accordingly, the new storage options for the iPhone 7 could be 32GB, 128GB, and 256GB, but it remains unclear if the 256GB tier will be exclusive to the larger 5.5-inch model as some sources have indicated.
The current storage options for both the iPhone 6/6 Plus and iPhone 6s/6s Plus series include 16GB, 64GB, and 128GB, with the 16GB base model in particular drawing the ire of some customers who have long hoped for a larger capacity at the entry-level price point. This year, it appears that Apple has finally acknowledged the desire for larger storage tiers at both the top and bottom of its iPhone lineup.