Apple Inks Apple Music Deal With Cash Money Records [Update: Documentary in the Works]
Apple has signed some kind of music agreement with Cash Money Records and its co-founder rapper Birdman, marking its first exclusivity deal with a full record label instead of individual artists, reports MusicBusinessWorldwide.
Apple Music head of content Larry Jackson and Birdman himself both confirmed the deal through Instagram posts, with Jackson calling Birdman a "tough negotiator." Details on the deal were not provided, so it is unclear what exactly it might entail.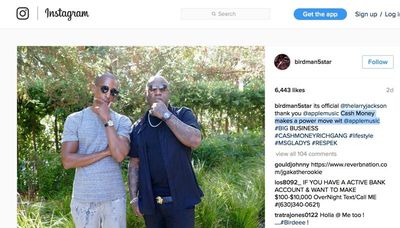 Cash Money Records represents popular, well-known artists that include Drake, Young Money, Lil Wayne, and Nicki Minaj, suggesting the deal could result in future agreements that will see content from artists signed under Cash Money Records available exclusively on Apple Music. MusicBusinessWorldwide speculates that the deal could involve exclusive releases or co-created content.

Apple may well have stumped up a big cheque to make it happen, potentially alongside some promotional guarantees regarding both iTunes and Apple Music itself.

One possible option: Apple paid out a weighty advance to Cash Money, at least some of which will be recouped from the label's future Apple Music/iTunes income.

Another: the two parties are co-creating content, whether music or video, which will remain exclusive to Apple.
Apple has worked with closely with Cash Money Records artist Drake in the past, and his latest album, "Views," was an Apple Music exclusive for a week when it launched in April. Drake also appeared at the Worldwide Developers Conference where Apple Music was introduced, and Apple produced the music video for "Energy" using its in-house production team.
Apple executives see exclusive and original content as a way to drive subscribers to Apple Music and they have worked hard to establish deals with artists like Britney Spears, Taylor Swift, and Katy Perry over the course of the last few months. Since its launch in June of 2015, Apple Music has seen steady growth, and as of June 2016, the service has more than 15 million paying subscribers.
Update: According to Bloomberg, Apple's deal with Cash Money Records was about a future documentary rather than exclusivity agreements. Apple and Cash Money Records will team up to make a documentary, which will likely be used to promote Apple Music.
Details on what the documentary might be about are not yet available.