Siri Offers Humorous Responses to Questions About Hit Game Pokémon Go
Apple's virtual assistant Siri is known for offering up funny responses to a range of questions, and Apple's Siri team often puts time and effort into providing Siri with answers and comments on current events. This summer, augmented reality game Pokémon Go has become a worldwide phenomenon, and as discovered on Reddit and by 9to5Mac, Siri will now answer questions about the hit game.
A question like "Siri, what's your favorite Pokémon?" receives answers like "That yellow species with an electrostatic tail of variable lengths is rather cute" or "Polymaths prefer Poliwags." Asking Siri if it likes Pokémon Go also results in humorous answers like "I like pocket monsters. Pocket assistants, too."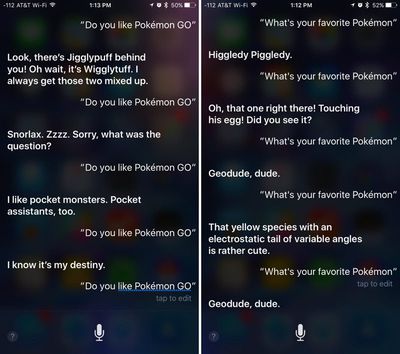 Because Siri draws in information from sources like Wolfram Alpha, which has offered information about Pokémon since 2013, the personal assistant can also answer specific questions you ask about Pokémon. Data available includes Pokémon type, abilities, stats, evolutions, and more specific comparative questions about which Pokémon have the highest attack, fastest speed, and more.


While fervor over Pokémon Go has died down somewhat in recent days due to controversial feature changes and decisions made by Niantic Labs, Pokémon Go set an App Store record for the most ever downloads during its first week of availability.
It is considered the biggest mobile game in U.S. history and has been downloaded more than 100 million times. According to estimates, the game brings in more than $10 million in daily revenue across the iOS and Google Play app stores.
To find other questions Siri gives funny answers to, Siri.io, a new website that offers a comprehensive list of Siri commands is worth checking out.