Apple Re-Hires Flipboard Co-Founder Evan Doll for Continued Push Into Health Initiatives
Apple has re-hired software engineer Evan Doll to help the company "develop more health-related software," according to information spotted by Bloomberg on Doll's LinkedIn account. Specifically, Doll is now a director of health software engineering at Apple, a position which he began sometime in July, but his profile information doesn't provide any further details into his role at the company.
The software engineer worked at Apple from 2003 to 2009, helping create and develop the software operating system for the iPhone. In 2009, he left Apple and co-founded magazine app Flipboard with Mike McCue. Similar to Apple News, Flipboard curates content and stories tailored to each user's personal tastes and preferences, and has even been endorsed by Apple in the past.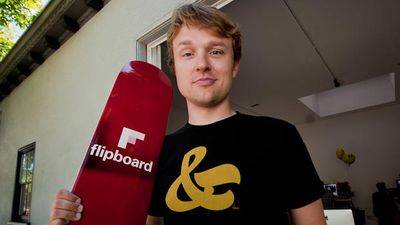 The launch of Apple News was reported as a steep competitive challenge for the small company, resulting in a majority of its executives leaving the company -- including Doll himself -- in September 2015. Despite his background in the news curation space, Doll's new placement at Apple has him focused on potential new health initiatives, an area that the company has slowly been building upon lately.

Apple has been beefing up its engineering team for health-care applications, hiring Sage Bionetworks founder and Merck & Co. veteran Stephen Friend and former Nest Labs technology chief Yoky Matsuoka earlier this year. Chief Executive Officer Tim Cook is increasingly positioning the Apple Watch as a wellness accessory as he tries to win a slice of the $4.6 trillion U.S. health and fitness industry.
A report from earlier in the week suggested that Apple is working on a new health-tracking piece of hardware to launch alongside the 10th anniversary iPhone in 2017. Although details are still lacking for a product launch over a year away, the product is said to collect heart rate, pulse, and blood sugar changes, which could be describing a next-generation Apple Watch if it's not an entirely new addition to the company's hardware lineup.
Earlier in the year, Apple CEO Tim Cook spoke with Jim Cramer on "Mad Money," discussing Apple's initiatives in the health landscape. Cook described services like ResearchKit and the Health app as "significantly underestimated" sections of the technology market. Ultimately, when asked what the "next frontiers" in product development, Cook described health, and all the inroads taken by Apple to provide detailed analysis of a user's well-being, as "the biggest one of all."