iPhone 7 Display Features Dual Sensor Cutouts and Longer, Wider Earpiece
With the launch of the iPhone 7 fast approaching, images of device components are leaking out at a rapid pace. This morning, we saw what appeared to be a functional iPhone 7 model running Apple's SwitchBoard prototyping software, and now an image depicting what's said to be the front panel of the iPhone 7 has surfaced on Weibo.
The panel looks distinctly different than the front panel of the iPhone 6s, with a longer and wider earpiece that's closer in proximity to the camera cutout and two sensor cutouts towards the top of the device. Also included is a home button cutout at the bottom of the panel.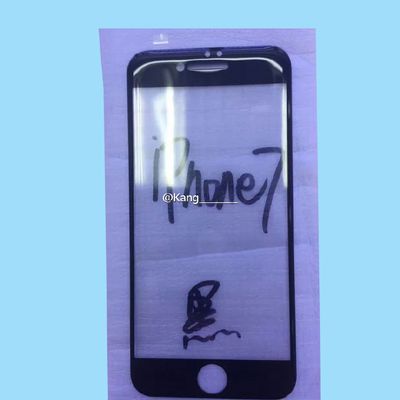 Curiously, the alleged front panel does not look like the front panel that was seen in the photos and video of the fully assembled and functional iPhone 7 that was leaked this morning, but it is in line with past rumors about the iPhone 7.
Back in June, Japanese site Mac Otakara said the iPhone 7 would feature a redesigned front panel with a longer earpiece cutout and dual proximity sensors. That rumor and the front panel image both conflict with the full device images, so either the front panel is fake or the full device images are fake.
Conflicting rumors have been surfacing about the iPhone 7 for months, making it difficult to suss out concrete details about the device. On top of that, many leaked dummy models said to be based on iPhone 7 and iPhone 7 Plus specifications have been floating around, and not all of them are the same.
As we get closer to the launch of the iPhone 7, we'll undoubtedly see additional parts that will allow us to get a clearer picture of what to expect, but right now, there are a few features that are up in the air.
While some details are still murky, there are rumors that have surfaced time and time again, allowing us to reliably predict some iPhone 7 changes. The device is expected to include a slightly redesigned body with relocated antenna bands, no headphone jack, camera changes (larger camera in the iPhone 7 and dual cameras in the iPhone 7 Plus), and an improved A10 processor.