iOS 10 Beta 4 Includes Dozens of New Emoji Promoting Gender Equality
Today's iOS 10 update includes more than 100 new emoji with expanded gender options for a wide range of activities and professions, allowing users to choose a man or a woman when expressing themselves through emoji.
Emoji that previously only featured men, such as the cyclist, swimmer, police officer, and construction worker, are now available for either gender, and emoji that previously featured only women, such as the haircut emoji or the massage emoji, now also feature men. All of the new emoji are also available in a range of different skin tones.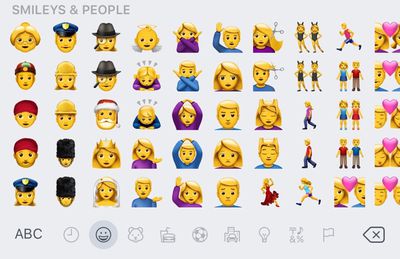 More than one hundred new and redesigned emoji characters will be available to iPhone and iPad users this Fall with iOS 10. This exciting update brings more gender options to existing characters, including new female athletes and professionals, adds beautiful redesigns of popular emoji, a new rainbow flag and more family options.
The new emoji come following changes to Unicode implemented in July by the Unicode Emoji Subcommittee, which include male and female versions of 33 existing emoji. The change also included a range of new professions from scientist to doctor to cook, but Apple does not appear to have added these.
iOS 10 beta 4 is currently available for developers and can be downloaded from the Apple Developer Center or over-the-air on devices running previous iOS 10 betas. Apple will likely release a new public beta containing the emoji later this week, and a worldwide public release will come in the fall alongside new iOS devices.