Apple Stores to Expand in Latin America, Starting With Mexico City
Apple is planning a major retail store expansion in Latin America, starting with two stores in Mexico City, according to an anonymous tipster who contacted MacRumors. An internal document appears to confirm that Apple is hiring in Mexico City until January 18, but some other details shared below remain unverified.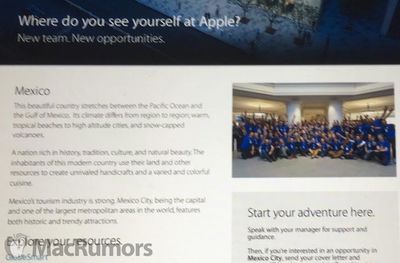 The tipster claims the first Mexico City store will be located in the upscale Via Santa Fe area of Centro Santa Fe, the largest shopping mall in Latin America, while the second store will allegedly be in a prominent shopping district and adopt Apple's next-generation store design used in Brussels, Cupertino, Dubai and elsewhere.
The second store will also serve as one of 25 "global flagship" stores that Apple is planning, including renovated Fifth Avenue, New York City and Union Square, San Francisco locations, according to the tipster. Apple also allegedly has plans for additional stores in other Mexican cities, including Guadalajara and Monterrey.
Apple's retail expansion in Latin America will also include the first stores in Chile, Peru and Argentina, according to the tipster. These stores will allegedly work closely with the stores in Mexico and elsewhere in Latin America, likely including the company's two existing Brazil stores in Rio de Janeiro and São Paulo.