First Alleged Leaked Images of 12.9-inch 'iPad Pro 2' Surface
Amidst the recent flurry of videos and images of iPhone 7 mockups coming out of China, one pair of pictures that emerged over the weekend claims to offer evidence of Apple's successor to the first iteration 12.9-inch iPad Pro.
Sent in to AppleInsider and said to originate from a Chinese supplier, the combined image below shows a device identified with model number MH1C2CD/F, which has yet to be assigned to an iPad by Apple so far.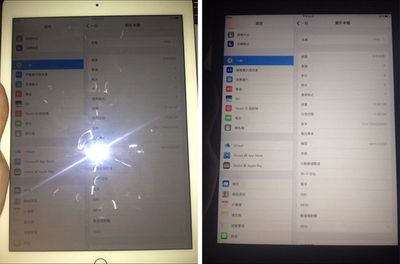 While the identifier proves little, the nomenclature is in line with Apple's existing numbering convention for its iPad Pro range, and Apple is due to refresh its largest tablet this fall.
AppleInsider notes that the device's screen shows a 12GB capacity, which is just enough for installing an OS and apps for internal testing and debugging, suggesting the device could be a pre-production model or prototype.
Based on previous updates to the company's tablet range, customers can expect a new 12.9-inch iPad Pro to feature a faster A10X processor and a better camera, with a good chance it will inherit the True Tone display seen in the 9.7-inch iPad Pro. 3D Touch is also a possibility, although Apple would need to have overcome the challenges involved in porting the technology to a larger screen.
Apple is also expected to launch thinner and lighter MacBook Pro models this fall, with some rumors suggesting a dynamic OLED touch panel could feature as part of a planned redesign.