Concept Imagines What a Dynamic OLED Touch Panel Could Look Like on a MacBook Pro
Following rumors suggesting the next-generation MacBook Pro will feature an OLED touch panel that replaces the function keys, designer Martin Hajek has created some renderings imagining what such a MacBook Pro might look like.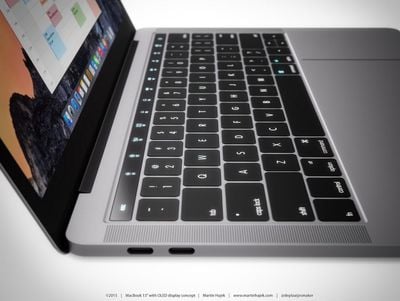 Hajek's design incorporates some recent information indicating the touch panel on the MacBook Pro could be contextual, with icons and imagery that changes based on the app that's in use. Hajek imagines music controls when Spotify is open, which morph into a download monitor when using Transmission.


Also included in the images is an example of Siri on the Mac, with the colorful Siri waveform depicted on the touch panel. Siri for Mac is rumored to be one of the main features coming in OS X 10.12, set to debut on Monday. Not pictured is a Touch ID button, a feature also expected to be included on or alongside the panel.


In addition to an OLED touch panel, Apple's next-generation MacBook Pro, which will come in 13 and 15-inch sizes, is expected to be thinner, incorporating metal injection mold-made hinges, thin speakers at the sides of the machine, and USB-C ports with Thunderbolt 3 support.
As has been seen in a leaked chassis image, the OLED panel will be located at the top of the keyboard, where the function keys would normally be positioned. KGI Securities analyst Ming-Chi Kuo has said the upcoming MacBook Pro will feature "the most significant upgrade ever undertaken by Apple."
We don't yet know when the new MacBook Pro will launch, but Kuo has said he expects it to debut in the fourth quarter of 2016.
Make sure to check out Hajek's website for the full selection of concept images.