Apple Stock Rises Above $100 Per Share For First Time in Six Weeks
Apple shares rose above $100 in intraday trading today for the first time since June 6, just weeks after the stock hit its latest bottom around the $92 mark.
AAPL is up over 1 percent on the day at the time of publishing, contributing to a slight rise in the Dow Jones stock index on the day.
Beyond a short-lived rebound in March and April, Apple shares had steadily declined since the second half of 2015. Some investors have expressed concerns over Apple's recent slowdown, including its
first quarterly revenue drop since 2003
and first-ever drop in iPhone sales last quarter.
AAPL is still trading for markedly lower than its year-ago price of around $132, but some analysts believe the stock is undervalued and due for a breakout.
A few weeks ago, analyst Brian White of Wall Street brokerage firm Drexel Hamilton listed AAPL as a "buy" based on a target price of $185. Other firms like Goldman Sachs and S&P Capital IQ, a division of McGraw Hill Financial, have set lower price targets of between $120 and $130 in recent months.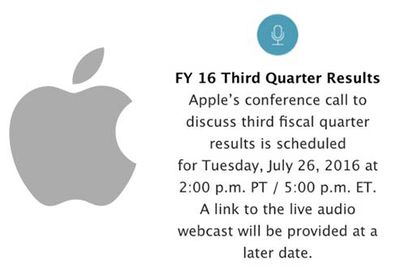 Apple will release its fiscal third quarter earnings results on Tuesday, July 26 at 1:30 p.m. Pacific Time, with a conference call to discuss the report to follow at 2:00 p.m. Pacific Time. The third quarter will likely mark a year-over-year decline, based on Apple's guidance of between $41 billion and $43 billion in revenue.