Apple this evening updated its investor relations page to note that the earnings announcement for the third fiscal quarter (second calendar quarter) of 2016 will take place on Tuesday, July 26.
In Q2 2016, Apple saw its first year-over-year revenue decline since 2003 along with its first ever drop in iPhone sales, and that downward trend is expected to continue into the third quarter of the year.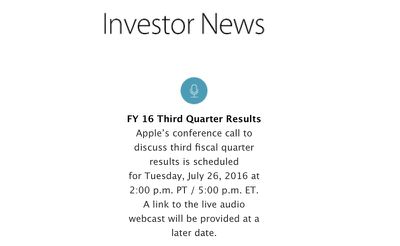 During its last earnings call, Apple's guidance included expected Q3 2016 revenue of $41 to $43 billion and gross margin between 37.5 and 38 percent.
The quarterly earnings statement will be released at 1:30 PM Pacific/4:30 PM Eastern, with a conference call to discuss the report taking place at 2:00 PM Pacific/5:00 PM Eastern. MacRumors will provide coverage of both the earnings release and conference call on July 26.