Among many iOS 10 announcements made at WWDC yesterday, one notable update to Apple's mobile operating system came in the form of third party developer support in Apple's iMessage chat platform. With the new SDK, developers can create app extensions -- similar to third party keyboard apps available now on the App Store -- that let users interact with apps from directly within Messages.
Following its announcement at the keynote, the developer of Square Cash [Direct Link] shared a little bit more information about how their payments service works as an app extension for Messages. Once a user has Square Cash installed, they can find it with their other apps in the new iMessage "App drawer." From there, "Just swipe up to pick an amount and attach it to a message. One tap to deposit it!" The iMessage App is still limited by Square Cash's own restraints, however, so international payment transfers are unavailable as of now.

iMessage Apps for Square Cash (left) and Disney stickers (right)
During the keynote, Craig Federighi gave a demo of another iMessage app,
DoorDash
[
Direct Link
], collectively collaborating on a group lunch order without leaving Messages. Once he decided on his menu item and selected the quantity of the order, he shared his choice with a contact in Messages to add his lunch to the group ticket. Other entertainment-focused apps, like
JibJab
[
Direct Link
], grant users access to the iPhone's camera to place their faces on GIF-like videos to share with friends.
Although not specifically detailed, the iMessage App extensions for already-existing apps, like Square Cash, will presumably be free upgrades for users who already own or have downloaded the base apps. On Apple's developer site, a heavy emphasis is placed on the "purchase" of various sticker packs, however, suggesting that the various Disney and other brand-related stickers will not be free to download.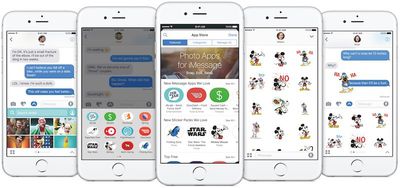 Help users express themselves in richer ways by providing stickers for purchase on the App Store for iMessage. Users can tap to send stickers in a thread, adjust their size, or place them on top of bubbles, other stickers, and photos. There's no need for you to write code to create stickers — simply drag the images into the designated folder in Xcode.
Not many other iMessage Apps have been detailed by Apple and developers yet, but wording on the developer beta site mentions users will be able to "share content, edit photos, play games, send payments, and collaborate with friends." While some might be similar in execution to third-party keyboards in iOS 9, now that Apple has granted developer access to its Messages platform, it'll be interesting to see what new kind of shortcuts and message-enhancing features come out of the new App Store for iMessage.
Anyone who needs to catchup with the WWDC keynote -- or if you just want a refresher -- can do so by watching MacRumors' 7-minute recap video. Likewise, our iOS 10 tidbits post has more information on iMessage updates, individual read receipts, the ability to remove pre-installed apps, and more.