iOS 10 Tidbits: Individual Read Receipts, Wake Alarm, Music Storage Optimization, and More
Apple today announced iOS 10, the next major version of its iPhone, iPad, and iPod touch software platform. The update is available in beta for Apple developers starting today, allowing early adopters to update and take a closer look at what's new. A public beta will be available in July, followed by an official launch in the fall.
iOS 10 includes a number of changes that Apple neglected to mention in greater detail on stage during its WWDC 2016 keynote, including a new Wake Alarm in the Clock app, individualized read receipts, a new option in the Music app to optimize storage, and many other features outlined below.
Remove Stock Apps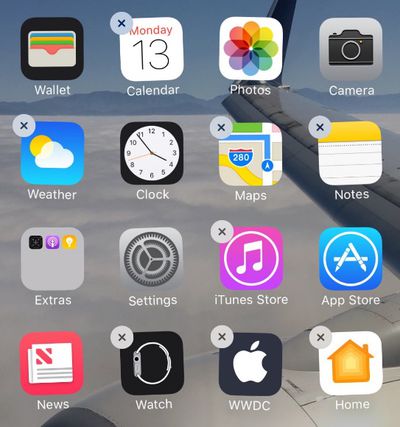 iOS 10 enables users to remove the following built-in apps from the Home screen on iPhone, iPad, or iPod touch:


• Calendar
• Compass
• Contacts
• FaceTime
• Find My Friends
• Home
• iBooks

• iCloud Drive
• iTunes Store
• Mail
• Maps
• Music
• News
• Notes
• Podcasts

• Reminders
• Stocks
• Tips
• Videos
• Voice Memos
• Watch app
• Weather
The apps are now available as standalone downloads on the App Store, meaning that Apple can issue updates for each app independent of iOS updates.
If you have an Apple Watch paired with your iPhone, removing an app from your Home screen also removes that app from your Apple Watch.
Removing apps can unsurprisingly impact related functionalities such as CarPlay and Notification Center widgets.
Wake Alarm


A new Bedtime tab has been added to the Clock app with a Wake Alarm function that can help you go to sleep and wake up at the same time every day. When enabled, the recurring wake-up alarm will remind you when it is time to sleep, track how many hours you slept, and provide detailed sleep analysis.
Individual Read Receipts


Read receipts can be toggled on a per-person or per-conversation basis on iOS 10, rather than be simply turned on or off entirely.
Music Storage Optimization


New Keyboard Sound

Other tidbits can be found in our
iOS 10: All The Little Things
and
iOS 10 beta 1
discussion threads.