Google's Echo Rival is a 'Dressed-up' Version of Chromecast
Last month, Google announced plans for its upcoming Amazon Echo rival, Google Home, a Wi-Fi enabled personal assistant that enables people to ask Google search queries, manage everyday tasks, enjoy music and entertainment, and more using hands-free "OK Google" voice commands.
Yesterday, a few more details emerged about Google Home, which will potentially go directly up against the smart device Apple is rumored to be working on.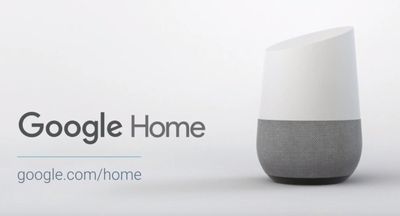 According to technology news site The Information, Google Home will share many of the hardware components of the company's popular internet-connected TV streaming device, Chromecast, relying on the same dual-core ARM-based microprocessor, 4GB of RAM, and a dual-band 802.11ac Wi-Fi chip.
The similarities are apparently so close between the two devices because the same team responsible for the Chromecast headed up development of the Google Home. As a result, it is being described as "dressed-up version" of the company's existing device, with the addition of a microphone, speaker, plastic top with LED lights, and a fabric or metal bottom. 
The Home is also expected to run the same Linux-based OS used on the Chromecast, though Google has discussed powering future versions with its Android mobile platform. 
The upshot of all this is that the device could be extremely inexpensive to produce, given that the Chromecast currently sells at $35. That would mean Google being able to significantly undercut the $179 Amazon Echo. Notably, the Chromecast is also one of Google's most successful hardware products, selling 3 million units in the past three years.
Apple's rumored smart home product is a Siri-based device that would include a speaker and microphone that could be used for features like listening to music, getting news headlines, and more. Apple is also planning to introduce an enhanced version of Siri, which the company will open up to outside developers to integrate with their own apps and services.
Apple has reportedly been working on its rival device since before the Amazon Echo debuted in November 2014. Google Home will be available later this year, but it is not known when Apple will be ready to debut its home accessory or how it will fit into the company's existing product lineup.
But given Apple's tendency to place its hardware products at premium price points, consumers are unlikely to see a device as inexpensive as Google appears to be readying for the home.